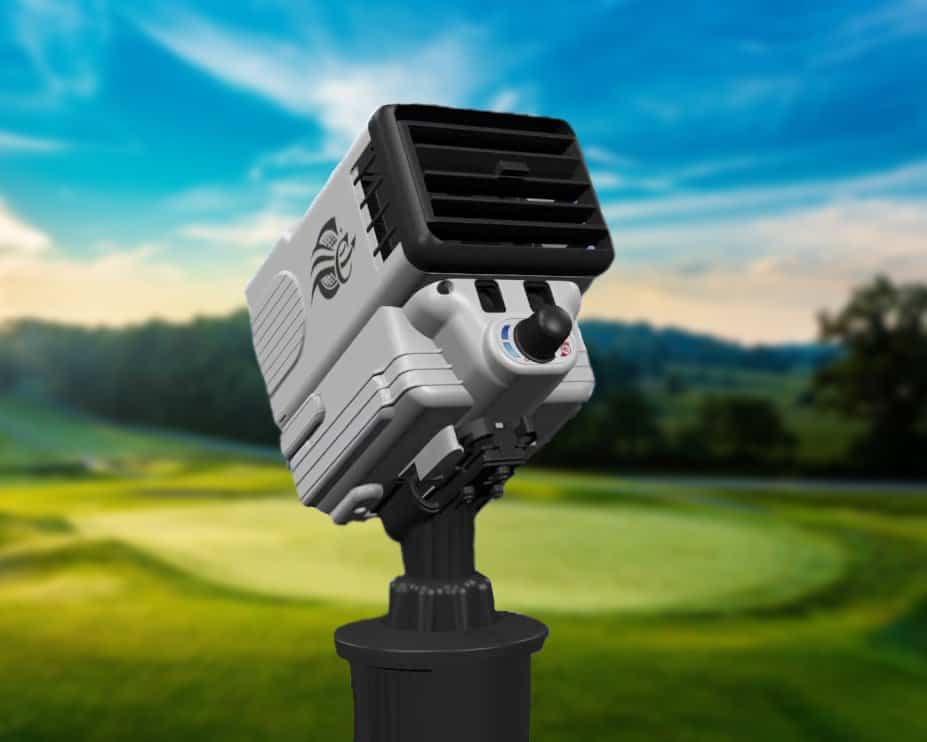 Your golf cart is your favorite mode of transportation around the neighborhoods and golf courses, and colder weather shouldn't dampen your enthusiasm for getting out and about. It is, after all, a great antidote for cabin fever. The addition of a portable heater is an easy and inexpensive way to keep the cold at bay and the good times rolling.
Which is the best heater to meet your golf cart needs? Since they are available in either propane or electric models, I will begin with the comparisons between the two first.
Propane Or Electric – Which Is Best For You?
Running down the list of pros and cons, you can get a pretty good idea which type is right for your cart.
Propane Pros
More efficient at heating
Can be moved from cart to cart, rented or personally owned
Least expensive
Propane Cons
Inexpensive models lack wind protection and have to be re-lit often
They require adequate ventilation
Cost of propane is an ongoing expense
No temperature control..they are either on or off
Some risk with an open flame in a moving vehicle
Electric Pros
No extra expense for fuel – runs off your batteries
No open flame to be extinguished by wind
No fumes
Usually includes a variable temperature control
Safe to use – no open flame
Electric Cons
A more expensive up-front cost
In some models, requires permanent mounting
Most efficient on newer golf carts
Doesn't work well with gas-powered carts
Let's look at some of the style and models of the best Golf Cart Heaters available and go over the pros and cons of each.
---
Propane Models
Mr. Heater 4,000 BTU MH4GC Golf Cart Heater & Refill Adapter
by Mr. Heater
Bundle includes Mr. Heater Golf Cart Heater and High-Quality Brass Propane Tank Refill Adapter which helps you save money on propane cylinders by enabling you to fill 1-lb. propane cylinders from bulk 20-lb. propane tanks (propane tank not included)
The Mr. Heater Golf Cart Heater is the only golf cart heater that has an oxygen depletion system, tip-over safety switch, wind-resistant screen, and pilot screen, ergonomic carrying handle and is built to withstand rugged terrain
This heater connects to a one-pound propane cylinder and operates at 4,000 BTUs for up to five and a half hours on one tank
Cup holder adapter fits most golf carts and locks in place
Certified for Outdoor Use ONLY
Mr. Heater safely delivers 4,000 BTU's, enough to keep you warm on the coldest days. The heater connects directly to a 1 lb LP cylinder and fits cupholders and locks into place on most golf carts. The unit is easy to operate…just push and hold the ignition swi9tch and the striking mechanism will kick in to finish the task. Mr. Heater is the only golf cart heater with both a built-in oxygen depletion sensor (ODS) and a safety tip-over switch to ensure safe operation all day long, even traversing bumpy cart paths. Heat reflection is not as good as the previously reviewed units but is by far the safest unit for using in an enclosed cabin. Each propane charge is good for 5-5 1/2 hours and the included adapter allows refilling from a larger 20 lb. tank. The unit DOES have good wind resistance and stays lit in breezy conditions and when the cart is moving.
Pros for this unit
This is a very efficient heater and warms the interior cabin rapidly.
Easy to Use and resists breezes extinguishing the flame.
Push-button On/Off
Cons for this unit
The cupholder is not always universal. It sometimes requires wrapping the bottle to prevent wobble.
It is either on or it is off, this means no auto temperature of any kind.
Note: This is my favorite propane-powered heater and adapts well for both gas and electric carts. It is larger than it looks in the advertisement photos. See the size comparison with my hand…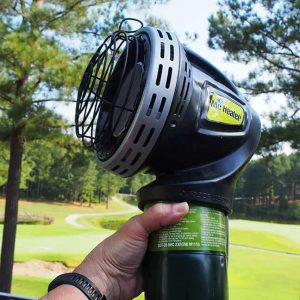 ---
Stansport Deluxe Golf/Marine Infrared Propane Heater
Operates up to 8 hours on a 16.4 oz. disposable propane cylinder
Supplies 3,500 BTU's of heat
Whisper-quiet operation for golf or marine environments
Matchless electronic ignition
Durable heat reflector
Manufacturer's description:
Portable golf/marine outdoor propane Infrared radiant heater operates on 8 hours on a 16.4 oz. Disposable propane cylinder and supplies 3,500 btu's of heat. The heater has a whisper quiet operation and a matchless electronic ignition with a durable heat reflector. Designed to handle a golf cart's bumpy ride. Fits in a golf cart's cup holder with included adapter and can also be used on a tabletop (stand included).
This unit is moderately priced and performs well, however, the electronic ignition has been reported to fail quite often, requiring the use of matches or a lighter to get the unit restarted. The heater element is rather high from the tank making it top-heavy, so if you don't have a good fit in the cup holder, it could end up on the floorboard. This model heats an enclosed cart well but lacks a windscreen and errant breezes caused by entering and exiting the vehicle often extinguish the flame and it needs to be relit.
This unit is efficient in fuel consumption and has one of the longest life-spans on each propane bottle, but puts out a maximum of 3,500 BTU's.
Pros for this unit
Good Medium Scale Price.
3500 BTU's (good for chilly weather).
Long propane bottle life.
Cons for this unit
Top Heavy – may require additional support
Reported ignitor issues
Not breeze resistant
---
Parts Direct Portable Golf Cart Propane Heater With Cup Holder
By Parts Direct
Operates up to 7 hours on 16.4 oz. propane tank (not included)
Includes holder which fits in most golf cart dashes
Supplies up to 5000 BTUs of heat
This unit is well priced and performs well, and has excellent heat projection. It is sometimes difficult to get it lit using the built-in spark trigger but puts out the heat you want when it counts. The manufacturer claims 7 hours operation but is usually 5-6 hours. This unit is well suited to very cold environments and reflects the heat well.

---
Electric Models
Climate Caddy in Cup
Extend your season with the Climate Caddy Golf Cart Heater.

This innovative heater and fan unit is designed for 48-volt electric golf carts. Thanks to patent-pending technology, it offers maximum climate control without draining the battery on your cart. The small, lightweight design fits right in the cup holder of your car
Climate Caddy Golf Cart Heater features:
Patent Pending 48 Volt PTC heaters produce 100A+ warm air so cold weather doesn't slow you down
The unit also includes a fan to help keep you cool in warm weather
Silent Whisper Fan moves air without creating a distraction
Bi-level vent system points the air right where you need it
The unit simply slips into the cup holder and connects to the battery with alligator clips
Battery Fail-Safe Sensor ensures the fan will not drain your cart battery
Made of durable, high impact and UV-resistant plastic with weatherproof protection
4.2″ x 10.87″ x 11.7″ design fits into any cup holder
Power Consumption: 63 to 655 Watts
1.1 pound design is easy to transport with included carrying case
2 year limited warranty
Dual-purpose unit – heat in the Wintertime, fan in the Summer. Easy to set up and easy to install. This heater has an electric eye that turns it off when you exit the vehicle. This is another portable/permanent unit that requires 48-volts to operate. It was a 2017 PGA Merchandise Show Choice Award winner and is a top-notch performer for its size.
This is my favorite electric heater and while it doesn't go with my gas-powered Club Car, it DOES do well with my 48-volt E-Z-Go RXV.
---
Heater Craft G200x Golf Cart Heater
by Heater Craft
Small and mighty! The Electric Golf Cart Heater by Heater Craft is perfect for those chilly mornings and crisp fall days. The compact electric golf cart heater system provides instantaneous heat. Get the heat you need to keep you out playing longer.
Ideal for use on the golf course or in the field
Doesn't drain your cart's batteries
And you won't lose access to your cup holder like you would with other brands
Compact and lightweight delivers up to 4,500 BTU/h. Available with flush mount faceplate or under the dash, universal mounting bracket. Ready for customer install. Note that this is a 48-volt heater and is not portable. You must do some drilling and wiring to set this unit up.
This will not work on a gas golf cart…and it will not adapt to older 36-volt electric carts. It must be a 48-volt cart. That being said, this unit performs well and only uses 10 amps. The immediate benefit is that there is a one time purchase and no propane bottles to keep buying. The dimensions are 5 3/4″L x 4 1/2″W x 4″H and the manufacturer provides a 4-year warranty.
---
Golf Cart 12 Volt Electric Heater
by Parts Direct
12 volt D.C. Electric heater. Can easily be a dash, floor or firewall mounted unit. Front or Rear seating areas. 1,100 BTU's Only draws 25 amps for extended use.
The Therm Tech Back Seat Heat Plus 3000C unit does not plug into the cigarette lighter…it is a direct Hook-Up.
This product is designed to be a supplemental heater in a vehicle that already has heat, but has some cold spots. The air output will be 20 to 30 degrees F warmer than the air input.
Made In The USA
2 Year Manufacturer's Warranty
Output – over 1100 BTU's. Note: This heater draws 300 watts. The average home hair dryer draws 1000 watts. This is a good comparison to consider when thinking of purchasing this heater.
Input – 12 Volts, 25 Amps maximum draw (300 watts) If your vehicle's alternator does not produce at least 45-50 amps there may not be enough power to operate this heater
Fan Rating – 102 Cubic Feet per Minute
Provides heat or air circulation from your vehicle's battery
Treated Blower Surface – Case and Blower window stay cool to the touch.
Adjustable Thermostat
Connects with included 20-foot Wiring Harness – Heavy gauge wire with in-line 30 Amp spade type automotive fuse included.
There is a quick disconnect at the heating unit
Optional Dash Switch included.
Mounting Bracket Included
Impact Resistant Case
Dimensions (looking at the front) – 5.25 wide x 7.75 deep x 8.25 high
While easy to install, this unit draws 25 amps of power and should not be considered for extremely cold environments. This was built as a supplemental heater for (as the text printed on the front of the case implies) the back seat where some car heaters can't reach.
Many users have complained that the heater did not function after a few uses or it melted fuses…I would not recommend this for a golf cart.
---
Final Thoughts
When purchasing a heater for your golf cart, take into consideration whether you are using an enclosure or not. The temperature inside the cabin with an enclosure in use is, in most cases, around 20 degrees warmer than without. Also note that when using an enclosure with propane, you will need proper venting. This will involve leaving one of the flaps slightly open if you don't have built-in fresh air vents.
Always check the specifications for the electric heaters, as some of these will not adapt to certain electrical systems, i.e. 48-volt in a 36-volt or gas-powered cart.
Manufacturers often have accessories available for their products, so always refer back to the home page, if available, and see if there are any add-ons to improve your current setup.