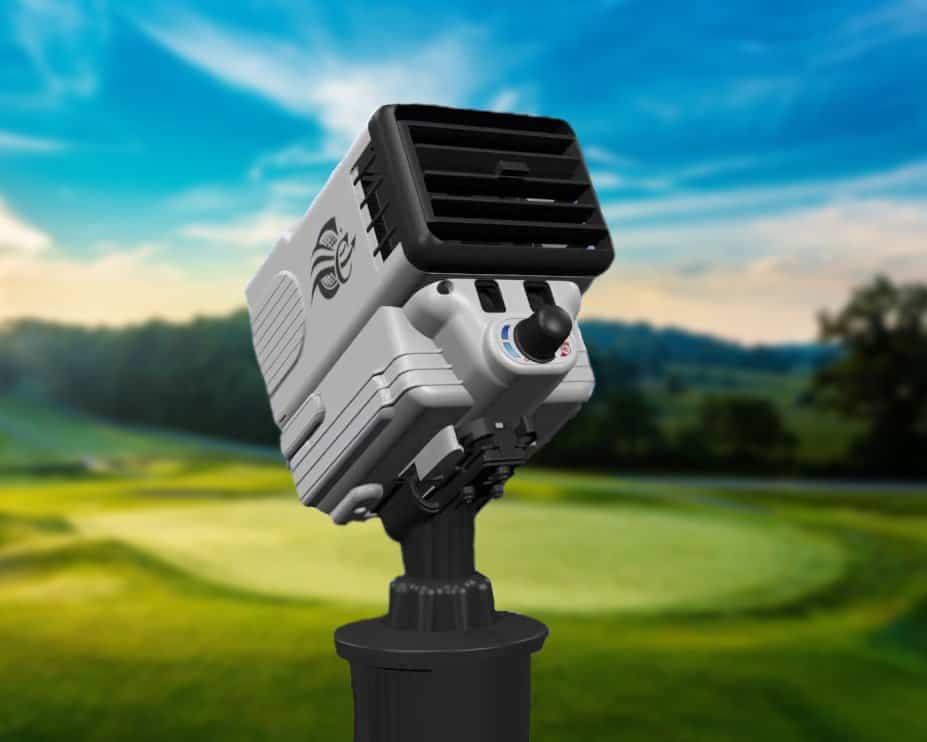 Your golf cart is your favorite mode of transportation around the neighborhoods and golf courses, and colder weather shouldn't dampen your enthusiasm for getting out and about. It is, after all, a great antidote for cabin fever. The addition of a portable golf cart heater is an easy and inexpensive way to keep the colder months at bay during winter months and the good times rolling.
The Top Pick – Mr. Heater Golf Cart Heater F242010 MH4GC
The Mr Heater golf cart heater safely delivers a heat output of 4,000 BTUs, enough to keep you warm on the coldest days. The heater connects directly to a 1 lb LP cylinder and fits cupholders and locks into place on most golf carts. The unit is easy to operate…just push and hold the ignition button and the striking mechanism will kick in to finish the task. Mr Heater is the only golf cart heater with both a built-in oxygen depletion sensor (ODS) and a safety tip-over switch to ensure safe operation all day long, even traversing bumpy cart paths. Heat reflection is not as good as the previously reviewed units but is by far the safest unit for use in an enclosed cabin. Each propane charge is good for 5-5 1/2 hours and the included adapter allows refilling from a larger 20 lb. tank. The unit DOES have a good wind-resistant burner and pilot and stays lit in breezy conditions and when the cart is moving. The one-button operation makes it a foolproof choice for safe heat.
Pros for this unit
Having personally tried this heater, I can vouch for its certainly effective nature. Despite the nippiest weather, the golf cart's interior was snugly warm in a matter of minutes.
Easy to Use and resists breezes extinguishing the flame.
Push-button On/Off
The ergonomic carrying handle offers much more than just easy transportation—it also contributes to your overall handling comfort, which your hand will undoubtedly appreciate.
Oxygen shut-off system to prevent carbon monoxide poisoning
The wind-proof burner is a particularly handy feature, ensuring the heater continues to function even in gusty conditions—your golf outings needn't be disrupted by the fickle British weather.
Protective Screen
Cons for this unit
The cup holder is not always universal. It sometimes requires wrapping the bottle to prevent wobble.
Admittedly, this heater doesn't offer auto temperature control, however, the level of warmth it produces leaves little to be desired. Plus, the lack of complex settings results in a simpler, user-friendly experience.
Note: This is my favorite propane-powered golf cart heater and adapts well for both gas and electric carts. It is larger than it looks in the advertisement photos. See the size comparison with my hand…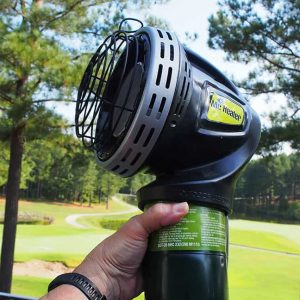 ---
Mr. Heater F215100 MH4B Little Buddy 3800-BTU
Product details
Indoor-safe portable propane heater for rooms up to 95 square feet. Note: THIS UNIT IS NOT INTENDED FOR GOLF CART USE OR FOR MOTORIZED VEHICLES. Special Mounting Should be considered.
Continuous odor-free, 45-degree heating angle. Maximum Elevation (Ft) 7000 Feet. Automatic low oxygen shut-off system (ODS). Perfect solution for heating small enclosed spaces like tents up to 95 square feet
Simple on/off buttons; uses 1-pound disposable propane cylinder (not included). Run time at minimum BTU and maximum BTU is 5.6 hours. Do­ not­ operate­ heater­ in­ any ­moving­ vehicle. This ­heater ­requires ­a­ vent­ area­ of­ 4­ square­ inches­ minimum ­for­ adequate ventilation ­during­ operation
Low-oxygen sensor and accidental tip-over safety switch with auto shut-off for safety. THE USE OF UNAUTHORIZED ACCESSORIES/ATTACHMENTS WITH THIS HEATER IS EXPRESSLY PROHIBITED, MAY CAUSE SERIOUS INJURY, AND WILL VOID THE WARRANTY.
Recommended for emergency heat, tents, campers, workshops, job sites, porches, patios, decks, garages, storage buildings, picnics, tailgate parties, construction trailers, sporting events, barns, sheds, hunting blinds, shelters and ice fishing shanties
---
Mr. Heater F232000 MH9BX Buddy 4,000-9,000-BTU
Product Details
4,000- to 9,000-BTU radiant heater for spaces up to 225 square feet. Approved for indoor/outdoor use; clean-burning; nearly 100-percent efficient
When operating the heater at altitudes over 7,000 FT above sea level the heater may shut off.
Auto shut-off if tipped over, if pilot light goes out, or if detects low oxygen levels. Fuel Consumption/Burn Rate (Gal/Hr) at 4000 BTU = 0.044 Gal/Hr, at 9000 BTU = 0.099 Gal/Hr
-A handy fold-down handle ensures portability is a cinch. -The swivel-out regulator makes adjusting settings a doddle. -Hooking it up to the propane tank is simple (please note: the tank doesn't come with the heater). -At maximum BTU, it boasts a commendable running time of 3 hours.
THE USE OF UN-AUTHORIZED ACCESSORIES/ATTACHMENTS WITH THIS HEATER ARE EXPRESSLY PROHIBITED, MAY CAUSE SERIOUS INJURY, AND WILL VOID THE WARRANTY.
---
Texsport Sportsmate Portable Propane Heaters
Product Details
The Propane Heater is convenient and compact but it still brings the heat. It fits any 16.4 oz or 14.1 oz disposable propane fuel cylinder.
Includes molded plastic cup holder and large paddle foot plastic base for greater stability
Auto shut-off valve shuts off fuel if the flame goes out
Pressure regulator on/off control valve adjusts burner up to 3,000 BTUs
---
TSI Products, INC SCC7701 Climate Caddy 48V Electric Golf Cart Heater and Fan, White, Large
Product Details
May be available at a lower price from other sellers, potentially without free Prime shipping.
Patent Pending 48 Volt PTC electrical heater that produces 100 degree plus warm air and also has a fan to cool you off on warm days.
Bi-Level vent system points air exactly where you need it and attachment arm points the unit at the perfect angle toward the driver.
Install is easy. Simply slip the unit into the cup holder of the cart and connect to the battery with easy to use alligator clips (portable version)
This heater is hard-wearing, made from a resilient UV-resistant plastic, bearing up under the challenges of outdoor usage. It also offers weatherproofing protection to ensure its longevity and performance—whether the weather is positively glorious or somewhat dreary, this heater won't let you down.
Specifications: Voltage: 48 Volts; Current: 1. 3 to 13. 6 Amps @ 48 Volt DC; Power Consumption: 63 to 655 Watts; Fan Rating: 700 to 900 F/M; Weight: 1. 1 lbs.
fit type: Universal Fit
Dimensions:4.215 × 10.87 × 11.7 in
Needs 48 volts of battery for power.
---
Red Hawk Propane Heater for Golf Carts/Marine with Cup Holder by Transport
---
Performance Plus Carts Propane Golf Cart Heater with Cup Holder Adapter and Stand EZGO, Club Car, Yamaha Golf Cart Models
---
3G Portable Propane Heater for Golf Carts
Product Details
Includes (1) Portable Propane Heater (Propane NOT included)
3,000 B.T.U. ceramic heater element
Stainless steel regulator with safety grid, auto shut-off valve
***PLEASE MAKE SURE YOU GO THROUGH INSTRUCTIONS STEP BY STEP AND WATCH OUR "HOW TO" VIDEO, AS BOTH OF THESE WILL HELP WITH ANY LIGHTING OR MAINTENANCE ISSUES YOU MAY EXPERIENCE***
---
Propane Heater Or Electric Heater- Which Is Best For You?
Running down the list of pros and cons, you can get a pretty good idea of which type of heater is right for your golf cart.
Propane Heater Pros
More efficient at heating
Can be moved from golf cart to golf cart, rented or personally owned
Least expensive: the cost of propane is low
Propane Heater Cons
Inexpensive heater models lack wind protection and have to be re-lit often
They require adequate ventilation
The cost of a new propane tank for the heater is an ongoing expense
No heater temperature control..they are either on or off
Some risks with an open flame in a moving golf cart, especially if a tip-over switch is not included
Electric Heater Pros
No extra expense for fuel – runs off your golf cart batteries
No open flame to be extinguished by wind
No fumes
Usually includes a variable temperature control
Safe to use – no open flame
Electric Heater Cons
A more expensive up-front cost
In some models, requires permanent mounting
Fan-driven heaters make minimal noise while operating but constant bouncing around while driving on a rough surface could loosen up fan parts causing them to make a rattling noise.
Most efficient on newer golf carts
Doesn't work without a compatible power source on gas-powered golf carts
Another Handy Titbit About Golf Cart Heaters
Many of the "Coffee Cup" sized heaters might require an adapter to install the unit directly to your dash. This is the universal golf cart heater propane cup holder and adapter.
Final Thoughts
While shopping for a heater to keep your golf cart cosy, consider if you're utilising an enclosure. Typically, with an enclosure in use, the cabin's temperature is roughly 20 degrees toastier. Just remember, when using an enclosure alongside a propane heater, there's a requirement for adequate ventilation. You may need to leave one of the golf cart enclosure flaps partly open if you don't have built-in fresh air vents installed.
Make sure to check the specifications for the electric heaters, as some of these will not adapt to certain electrical systems, i.e. 48-volt in a 36-volt or gas-powered cart.
Heater manufacturers often have accessories available for their products, so always refer back to the home page, if available, and see if there are any add-ons to improve your current setup.
Just to let you know, as an affiliate of Amazon's programme, I earn a small commission on qualifying purchases made through our links. There's no additional cost to you, but it helps keep GolfCartTips.com going. More details can be found on our legal page. Cheers for the support!