—GolfCartTips.com is a participant in affiliate services from Amazon and other affiliate programs. If you buy something through our links, as an Amazon Associate I earn from qualifying purchases. Check our legal information for more details.–
Your golf cart is your favorite mode of transportation around the neighborhoods and golf courses, and colder weather shouldn't dampen your enthusiasm for getting out and about. It is, after all, a great antidote for cabin fever. The addition of a portable golf cart heater is an easy and inexpensive way to keep the cold at bay and the good times rolling.
Golf Cart Heaters – How They Measure Up
BEST
VALUE
Mr. Heater 4,000 BTU
BEST PERFORMER
Mr. Heater F232000
MOST COST EFFECTIVE
Stansport Deluxe
MOST INNOVATIVE
Climate Caddy 48 Volt
---
Portable Propane Heaters
Mr. Heater Golf Cart Heater 4,000 BTU MH4GC
4,000 BTUs (5.5 Hours runtime)

Includes oxygen depletion system and tip over switch

Wind resistant protective screen

Ergonomic carrying handle
The Mr Heater golf cart heater safely delivers a heat output of 4,000 BTU's, enough to keep you warm on the coldest days. The heater connects directly to a 1 lb LP cylinder and fits cupholders and locks into place on most golf carts. The unit is easy to operate…just push and hold the ignition button and the striking mechanism will kick in to finish the task. Mr Heater is the only golf cart heater with both a built-in oxygen depletion sensor (ODS) and a safety tip-over switch to ensure safe operation all day long, even traversing bumpy cart paths. Heat reflection is not as good as the previously reviewed units but is by far the safest unit for using in an enclosed cabin.  Each propane charge is good for 5-5 1/2 hours and the included adapter allows refilling from a larger 20 lb. tank. The unit DOES have good wind resistant burner and pilot and stays lit in breezy conditions and when the cart is moving. The one button operation makes it a foolproof choice.
Pros for this unit
This is a very efficient golf cart heater and warms the interior cabin rapidly.
Easy to Use and resists breezes extinguishing the flame.
Push-button On/Off
Oxygen shut off system
Wind resistant burner
Cons for this unit
The cupholder is not always universal. It sometimes requires wrapping the bottle to prevent wobble.
This type of heater is either on or it is off, this means no auto temperature of any kind.
Note: This is my favorite propane-powered golf cart heater and adapts well for both gas and electric carts. It is larger than it looks in the advertisement photos. See the size comparison with my hand…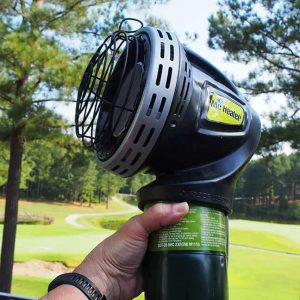 ---
Stansport Deluxe Golf/Marine Infrared Propane Heater
Operates up to 8 hours on a 16.4 oz. disposable propane cylinder

Supplies 3,500 BTUs of heat

Whisper quiet operation for golf or marine enviroments

Matchless electronic ignition

Durable heat reflector
Manufacturer's description:
Portable golf/marine outdoor propane Infrared radiant heater operates on 8 hours on a 16.4 oz. Disposable propane cylinder and supplies 3,500 BTU's of heat. The heater has a whisper-quiet operation and a matchless electronic ignition with a durable heat reflector. Designed to handle a golf cart's bumpy ride. Fits in a golf cart's cup holder with the included cup holder adapter and can also be used on a tabletop (stand included).
This unit is moderately priced and performs well, however, the electronic ignition on function has been reported to fail quite often, requiring the use of matches or a lighter to get the unit restarted. The heater element is rather high from the tank making it top-heavy, so if you don't have a good fit in the cup holder, it could end up on the floorboard when driving a bumpy cart. This model heats an enclosed cart well but lacks a windscreen and errant breezes caused by entering and exiting the vehicle often extinguish the flame and it needs to be relit.
This unit is efficient in fuel consumption and has one of the longest life-spans on each propane bottle, but has of a maximum of 3,500 BTU's heat output.
Pros for this unit
Good Medium Scale Price.
3500 BTU's (good for chilly weather).
Long propane bottle life.
Easy to transport
Cons for this unit
Top Heavy – may require additional support
Reported ignitor issues
No breeze resistant burner and pilot
No oxygen depletion sensor
---
Parts Direct Golf Cart Propane Heaters With Cup Holder
Operates up to 7 hours on 16.4 oz. propane tank (not included)

Includes holder which fits in most golf cart dashes

Supplies up to 5000 BTUs of heat

Features a pressure regulator set screw on the back side to fine tune the flow of propane. If you have trouble lighting the heater, this set screw will get it going as needed.

Please refer to page 1 and 2 of the instruction manual for lighting troubleshooting
This unit is well priced and performs well, and has excellent heat projection. It is sometimes difficult to get it lit using the built-in spark trigger but puts out the heat you want when it counts. The manufacturer claims 7 hours operation but is usually 5-6 hours. This unit is well suited to very cold environments and reflects the heat well. It includes a cup holder adapter.
---
Mr. Heater F232000 MH9BX Buddy 4,000-9,000-BTU Propane Heaters
Mr. Heater F232000 MH9BX Buddy 4,000-9,000-BTU Indoor-Safe Portable Propane Radiant Heater (MH9BX Bundle2)
4,000- to 9,000-BTU radiant heater for spaces up to 225 square feet. Approved for indoor/outdoor use; clean-burning; nearly 100-percent efficient

When operating the heater at altitudes over 7,000 FT above sea level the heater may shut off.

Auto shut-off if tipped over, if pilot light goes out, or if detects low oxygen levels. Fuel Consumption/Burn Rate (Gal/Hr) at 4000 BTU = 0.044 Gal/Hr, at 9000 BTU = 0.099 Gal/Hr

Fold-down handle; swivel-out regulator; connects to propane tank (not included); Run Time (Hrs at Max BTU): 3 Hours

THE USE OF UN-AUTHORIZED ACCESSORIES/ATTACHMENTS WITH THIS HEATER ARE EXPRESSLY PROHIBITED, MAY CAUSE SERIOUS INJURY, AND WILL VOID THE WARRANTY.
Mr. Heater Portable Buddy Features:
Two heat settings: 4,000 BTU/HR & 9,000 BTU/HR
The fold-down handle reduces storage space
Four-position control with built-in Piezo igniter off and lo/hi heat settings
High-temperature wire guard
Swivel regulator for easy LP cylinder and hose installation
Large durable porcelain coated heating surface directs radiant heat over a wider area
Oxygen depletion sensor safety shut-off (ODS) and tip-over safety shut-off
Ceramic heater element burner tile mounted with shock absorbing insulation for durability and easy replacement
With a larger heating surface, fold-down handle, swivel-out fuel connection, and an easy-start four-position control, Mr. Heater sets the new standard for portable golf cart radiant heating comfort. With its low-oxygen shut-off and tip over safety switch shut-off systems, this heater provides a safe wind resistant burner and pilot system and reliable heat anytime, anywhere.
How Much Heater Do You Need?
You can calculate the amount of BTUs required by using the following method: Measure the space's dimension to determine cubic feet. (Length x Width x Height = Cubic Feet). Subtract the outside temperature from the desired inside temp to determine the temperature increase. If you have measured temperature in Fahrenheit, calculate the required BTUs with this formula: (Cubic Feet x Temperature Increase x .133 = Required BTUs) If you have measured temperature in Celsius, calculate the required BTUs with this formula: (Cubic Feet x Temperature Increase x .2394 = Required BTUs).
---
Electrical Heaters
TSI Products, INC SCC7701 Climate Caddy 48V Electric Golf Cart Heater and Fan, White, Large
Patent Pending 48 Volt PTC heaters that produce 100 degree plus warm air and also has a fan to cool you off on warm days.

Bi-Level vent system points air exactly where you need it and attachment arm points the unit at the perfect angle toward the driver.

Install is easy. Simply slip the unit into the cup holder of the cart and connect to the battery with easy to use alligator clips.

Made of durable high impact UV-resistant plastic with weatherproofing protection.

Specifications: Voltage: 48 Volts; Current: 1. 3 to 13. 6 Amps @ 48 Volt DC; Power Consumption: 63 to 655 Watts; Fan Rating: 700 to 900 F/M; Weight: 1. 1 lbs.

fit type: Universal Fit
Extend your season with the Climate Caddy Golf Cart Heater.
This innovative heater and fan unit is designed for 48-volt electric golf carts. Thanks to patent-pending technology, it offers maximum climate control without draining the battery on your cart. The small, lightweight design fits right in the cup holder of your car
Dual-purpose unit – heat in the Wintertime, fan in the Summer. Easy to set up and easy to install. This heater has an electric eye that turns it off when you exit the vehicle. This is another portable/permanent unit that requires 48-volts to operate. It was a 2017 PGA Merchandise Show Choice Award winner and is a top-notch performer for its size. 
This is my favorite electric heater and while it doesn't go with my gas-powered Club Car, it DOES do well with my 48-volt E-Z-Go RXV.
---
Heater Craft G200x Golf Cart Heater
Ideal for use on the golf course or in the field

Doesn't drain your cart's batteries

And you won't lose access to your cup holder like you would with other brands

Small and mighty! The Electric Golf Cart Heater by Heater Craft is perfect for those chilly mornings and crisp fall days. The compact electric golf cart heater system provides instantaneous heat. Get the heat you need to keep you out playing longer.
Compact and lightweight delivers 4000 BTU to 4,500 BTU. Available with flush mount faceplate or under the dash, universal mounting bracket. Ready for customer install. Note that this is a 48-volt heater and is not portable. You must do some drilling and wiring to set this unit up.
This will not work on a gas golf cart…and it will not adapt to older 36-volt electric carts. It must be a 48-volt cart. That being said, this unit performs well and only uses 10 amps. The immediate benefit is that there is a one time purchase and no propane bottles to keep buying. The dimensions are 5 3/4″L x 4 1/2″W x 4″H and the manufacturer provides a 4-year warranty.
---
RoadPro RPSL-681 12V Direct Hook-Up Ceramic Heater/Fan w/Swivel Base
Direct hook up to your vehicle battery

Switch from heat to cool settings

25 Amp rating

ncludes all installation hardware

Requires a 30 Amp In-Line Fuse (Not Included)
Direct hook up to your vehicle battery Switch from heat to cool settings 15 Amp rating Includes all installation hardware 12 Gauge 14-Feet power cord Measures 7″ W X 4-1/2″ D X 5-1/2″ H
---
DC Thermal Marine SA12-4000 12 Volt 480 WATT 8016 BTU BRUSHLESS CAB Heater Weather Resistant
10,000 HOUR DC THERMAL RUCAR VACUUM SEALED ELEMENTS

BRUSHLESS 50,000 HOUR BALL BEARING FAN

RATED AT 40 AMPS

CAN BE MOUNTED HORIZONTALLY OR VERTICALLY

DESIGNED SPECIFICALLY FOR USE IN THE HARSHEST OUTDOOR ENVIRONMENTS
DC Thermals Stealth heaters produce no odor or fumes. Case construction: T5052 Aluminum. Thermally protected. Ideal for a golf cart heater, industrial equipment, ATV's and fork trucks. Wired with GXL wire. Heaters come with a High / Low / Off switch. Hand-built in the USA. Designed to last a lifetime. It comes with mounting hardware, mounting bracket, fuse, fuse holder, electrical connector ends, and detailed instructions. 2 YEAR WARRANTY.
---
Propane Heater Or Electric Heater- Which Is Best For You?
Running down the list of pros and cons, you can get a pretty good idea of which type heater is right for your golf cart.
Propane Heater Pros
More efficient at heating
Can be moved from golf cart to golf cart, rented or personally owned
Least expensive
Propane Heater Cons
Inexpensive heater models lack wind protection and have to be re-lit often
They require adequate ventilation
Cost of propane heater is an ongoing expense
No heater temperature control..they are either on or off
Some risk with an open flame in a moving golf cart
Electric Heater Pros
No extra expense for fuel – runs off your golf cart batteries
No open flame to be extinguished by wind
No fumes
Usually includes a variable temperature control
Safe to use – no open flame
Electric Heater Cons
A more expensive up-front cost
In some models, requires permanent mounting
Most efficient on newer golf carts
Doesn't work well with gas-powered golf carts 
Final Thoughts
When purchasing a heater for your golf cart, take into consideration whether you are using an enclosure or not. The temperature inside the cabin with an enclosure in use is, in most cases, around 20 degrees warmer than without. Also note that when using an enclosure with a propane heater, you will need proper venting. This will involve leaving one of the golf cart enclosure flaps slightly open if you don't have built-in fresh air vents.
Make sure to check the specifications for the electric heaters, as some of these will not adapt to certain electrical systems, i.e. 48-volt in a 36-volt or gas-powered cart.
Heater manufacturers often have accessories available for their products, so always refer back to the home page, if available, and see if there are any add-ons to improve your current setup.