Last Updated on July 13, 2023 by Chuck Wilson
Many vehicles that we own, like cars and motorcycles, come with their own speedometer as standard equipment, but bicycles and golf carts need this accessory added on. The list of available candidates to do the job is endless, so let's break this down into categories.
How do you install a golf cart speedometer? First, choose the type of speed measurement you're going to use: GPS or wheel speed sensor. Then choose which ease of install and use to go with.
Using A Smartphone App As A Golf Cart Speedometer
The cheapest way to install a speedometer on your golf cart is to use your smartphone and a smartphone holder, such as a cup phone or a suction cup mount for the windshield. There are plenty of apps available to use on your smartphone to measure your speed via GPS.
Most, if not all of these apps, are free and will require a bit of shopping around to find the one with the least intrusive ads. These applications work well, but they are not entirely accurate and limited to having a clear view of the GPS satellites.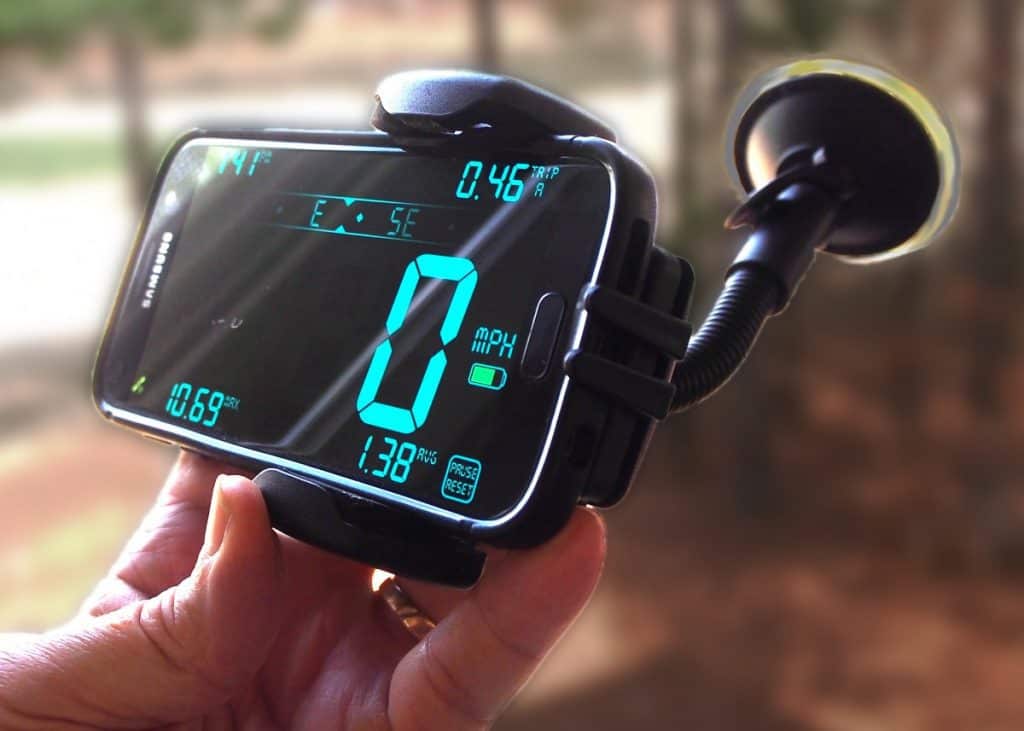 If you go this route I would recommend tethering the assembly with a cord in case the bumping around dislodges the suction cup. The apps available also allow you to use Google Maps and GPS functions.
GPS Speedometers
There are several GPS-based Speedometers available under $100 and they eliminate the need to use your phone. These were designed to be used in a variety of vehicles, not specifically for golf carts, but offer a low-cost way to acquire this commodity for your buggy.
Here is an example of this line of products…
The manufacturer of the first example states that it can be calibrated by hand easily to allow for the difference between engine speed and actual speed. The other two examples are in-dash mounted and would declutter the cab area nicely.
Bicycle Speedometers As An Alternative
Bicycle speedometers are an inexpensive choice for a more permanent installation, but you will need to pull out some of your McGyver skills to adapt them over. Zip ties and epoxy are the general attachment materials used around the hub and wheel.
Schwinn and other manufacturers have a low-cost digital readout computer that you can mount on the dash or steering column. a cable is run to the wheel assembly and the sensor is mounted in or around the knuckle or pivot point. The magnet is attached to the rotating hub so that it passed the sensor close enough to be read. The diameter of the wheel is entered into the head unit and it calculates the distance traveled versus the time elapsed.
This works well for some installations, but you have to be inventive with some models of golf carts to get the sensor and magnet mounted properly.
What Does A Speedometer Speed Sensor Do On A Golf Cart?
The speed sensor detects magnetic pulses from the fixed magnet rotating along with the hub, then transmits this to the "computer" section of the digital readout. The computer does the calculations and displays the estimated speed on the screen. This is also the way the more expensive Golf Cart Speedometers work.
The High Tech Models
So let's examine the speedometers that are specifically built for golf carts. These units cost anywhere from $150 to $300 and are usually well-built and waterproof. They come with mounting hardware, cabling, and brackets to do a professional-looking install. Each model comes with its own hardware installation instructions and each model of golf cart has different requirements to get the speed sensor and magnet aligned properly.
A major selling point on these golf cart speedometers is that they can monitor much more than cart speed. They can monitor engine or motor temperature, voltage output on an electric golf cart or alternator health on a gas golf cart, and readout current, average, and max speeds. They are also able to be programmed with maintenance reminders and keep track of ride time, current and accumulated.
Installation is more complicated and will require cable management, but the directions are complete and thorough for each of the three major manufacturers and sub-models of golf carts.
In Conclusion
Installing a speedometer is yet another way to customize your cart and make it uniquely yours. If you are considering converting to an LSV or making your cart street legal and this speedometer is just one of the steps toward that goal, check out this article made specifically for that purpose…