Last Updated on August 2, 2023 by Chuck Wilson
What is a Golf Cart Bike?
The GOLFBike is a bicycle built for playing sports. All of the features have been carefully designed to provide you with an unparalleled riding and golfing experience.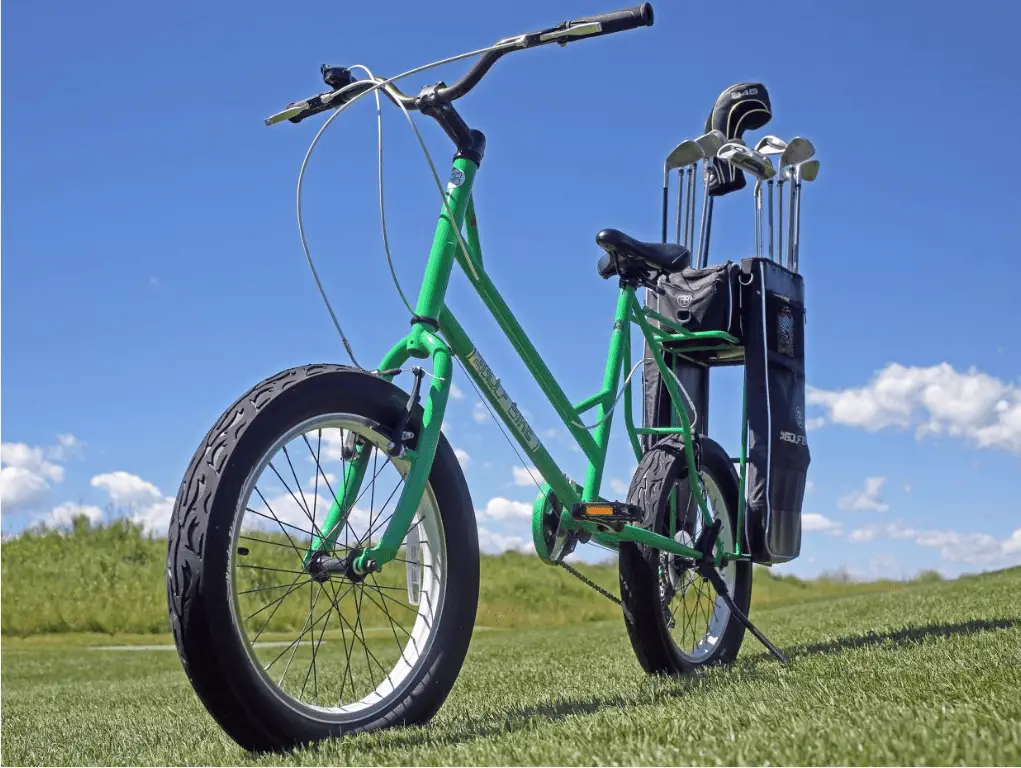 Golf bikes are vehicles that allow you to transport your golf club on the road, and they can be used for both shorter and longer distances. They have two wheels at the front, and one wheel at the rear, making it easier to ride. You can easily carry your golf bag on the back of the golf bike, which makes it great for commuting.
They are designed to allow you to exercise while playing golf, which means you can enjoy the game without getting tired. Plus, they are very convenient since you can drive wherever you want to go.
5 of the Best Electric Golf Scooters
Electric golf scooters are becoming increasingly popular as an alternative to golf carts. These little vehicles are great for getting around town without using gas or riding a bike. You can easily zip through traffic and park wherever you please. Plus, if you live near a golf course, you'll find yourself able to play your average golf 18 holes without ever recharging your motorized golf cart, e-bike for golf, or electric caddies.
1. Koppla Swift Motorcycle® Electric Golf Cart Scooter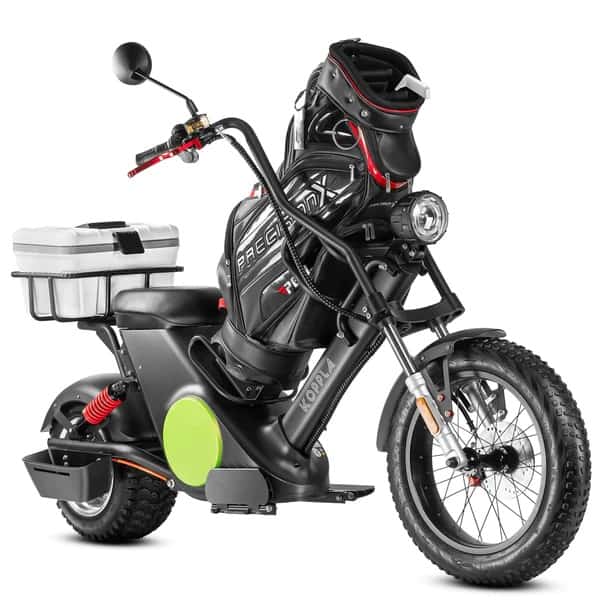 A powerful peak 3500W electric bike, instant 140NM torque, double power knock out; can handle lush hilled terrains or stunning oceanside courses.
This model has a 25AH Li-battery that has a range of 40 miles and can be used for multiple rounds of golf, even for 36 holes.
Maintain a steady speed of 20MPH; take a few extra swings as an added bonus.
A fully charged spare battery can be swapped in/out when you run out of juice!
This big-wheel golf cart motorcycle is multi-use; suitable for golfing, hunting, fishing, general riding, and more
Added Features
Prevents unexpected starts with a kickstand switch
Course-friendly, stable, and suitable for all terrains with fat tires
Stable parking is ensured with "Big Foot" kickstands
Storage box holds scorecards, balls, keys, and other small items
The on-road capability is enhanced by stylish and edgy aesthetics and finishes.
A luxurious ride is provided by the full-duty suspension
2. Fat Tire Rebel Trike XR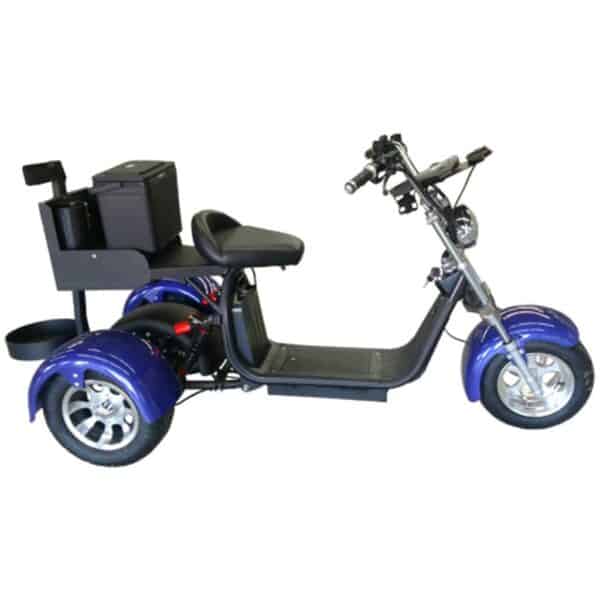 Fat Tire 3-Wheeled "Rebel Trikes" electric scooters are designed to provide maximum convenience for those who play the game of 18 holes. They are very easy to operate and maneuver, and they also cause minimal wear and tear to grassy areas. These scooters are ideal for transporting players between points on a course, and they can help them get back to the clubhouse faster.
They are lightweight options that require no gas or oil, and they can easily fit into small spaces. They come equipped with three large tires that allow them to travel quickly across rough terrain without causing much damage. Scorecards, pencils, tees, small items, balls, and a drink are held on the handlebar-mounted platform. They are powered by two lithium-ion batteries that charge fully in six hours.
3. Heybike Ranger E Bike
Ranger will help you get where you're going faster than ever before! The new series Ranger has better wear resistance and offers a more comfortable ride.
It features powerful 500W brushless motors, which allow you to commute and explore at any moment. Electric folding bicycles with 500 Watt motors are not for the faint of heart. Aside from being powerful, PAS mode provides accurate control suitable for a variety of road conditions. Battery life is up to 37-48 miles with a 48V 15Ah Lithium-Ion lockable battery. Easy to remove battery charges at your home or office. With the Step-Thru design, the Ranger is easy to start and provides a sense of security for riders.
Add the Divnick Golf bag carrier and Cruise the Golf Course in Style!
The proprietary auto-pivot quick-attach Bag Carrier fits on any e-bike that has a rear rack, and it will hold any size golf bag. It can be attached and removed in 3 seconds without any pins, bolts, or levers. It tilts out and becomes a rock-solid kickstand that locks the bike to the ground on any slope, then automatically pivots back into the upright carry position when you take off to your next shot. Balance is automatic…you don't even feel the weight on the back.
4. Phat Scooters – Phatty G3 Electric Golf Scooter
PHAT CADDY: Two-time winner of Golf Digest's Editor's Choice award. Featuring all the accessories a golfer needs – golf bag holder, cup holder, cooler, and more.
Regenerative Braking
161 NM of Torque
Golf Club Carrier
3 Year Limited Warranty
Dual Suspension
Full LED Display
Mirrors
LED Headlight
Ice Chest
Sand Bottle
49″ high by 96″ Long
5. SOVERSKY X7 GOLF CHOPPER
There is power, range, style, and comfort, and it is ready for all-terrain, both in terms of its tires and shocks and in terms of its range and battery. There will never be a time when you run out of power. A 35-mile range and 4-6 hours of charging time make it your perfect weekend companion. Enjoy a smooth ride with this fat-tire electric scooter while holding your gear. Quality plus a budget-minded price.