Last Updated on July 9, 2023 by Chuck Wilson
Did you know that over 2 million golf carts are used across the United States?
As a proud owner, there's always an itch to boost power and performance. You're in luck!
This guide will help you elevate your ride by installing a Predator 420cc engine into your golf cart. This affordable upgrade doesn't need a lift for installation and significantly increases power and torque.
It's time to give your trusty golf cart the power boost it deserves!
Specifications of a Predator 420cc Engine
You're in for a treat as we dive into the nitty-gritty of the 420 Predator's specs! Understanding the specifications of a 420 predator is key when considering engine upgrade options.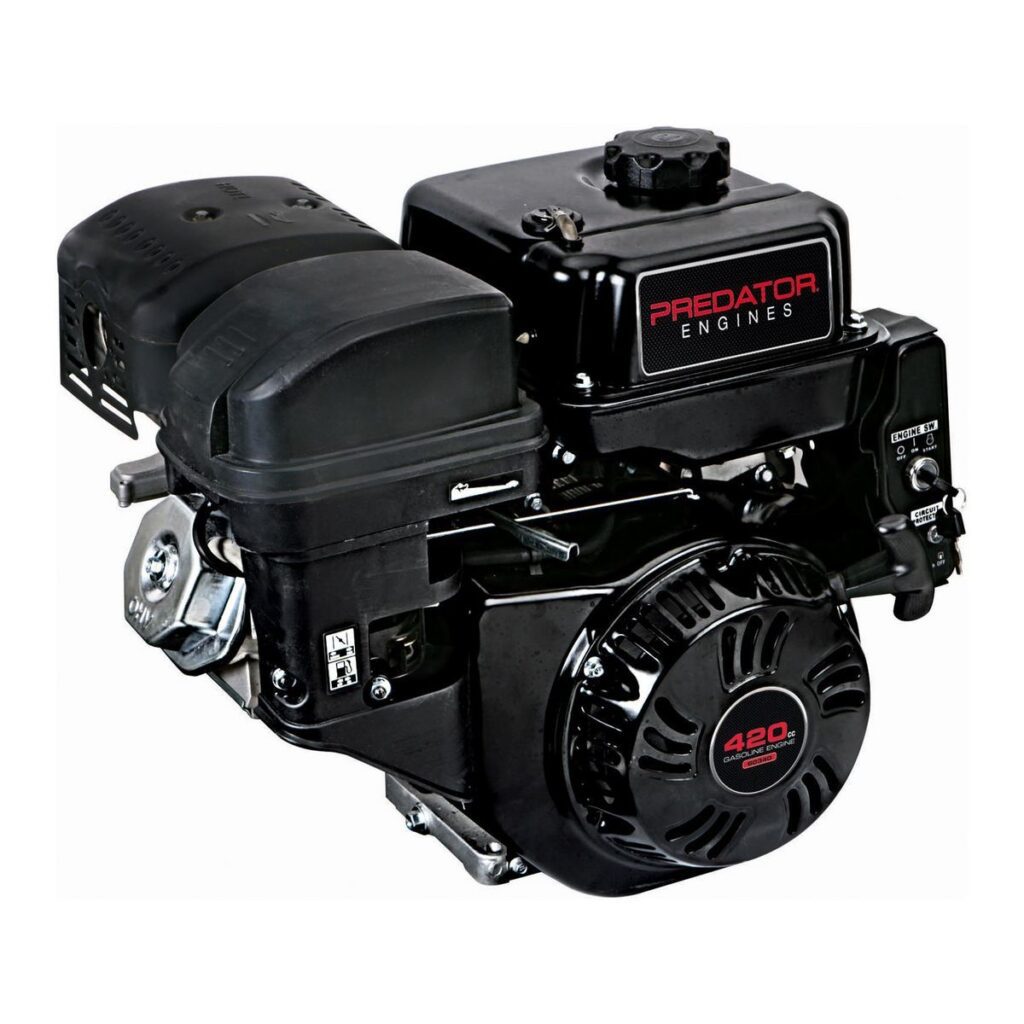 This beast is from the Harbor Freight Predator cc line:
Brand: Predator Engines 13 HP (420cc) OHV Horizontal Shaft Gas Engine EPA
Certification: EPA III
Engine displacement (cc): 420cc
Horsepower (hp): 13
Speed (max): 3600 RPM
Maximum Torque (ft. – lbs.):19.8 ft.-lbs. @ 2500 RPM
Mounting pattern: 195.5mm L x 86.0mm W – 103.0mm W (7.7 in. L x 3.4 in. W – 4.1 in. W )
Engine rotation direction: Counter clockwise
Sound rating: (dB)108 dB
Start type: Electric start with recoil backup
Product Height: 17.1 in.
Product Length: 18.9 in.
Product Weight: 76.00 lbs.
Product Width: 13.8 in.
Shaft Diameter: 1 in. (25.4mm)
Shaft length (in.): 3.48 in. (88.5mm)
Keyway: 1/4 in.
Shipping Weight: 85.25 lbs.
Stroke length (in.): 66 mm
Basic Tools and Materials Needed
Well, before you embark on your great journey of transforming your humble golf cart into a roaring beast with the Predator 420cc Install Kit, make sure you've got yourself a sturdy wrench and some basic tools. Trust me, it's not like we're performing heart surgery here.
An engine swap with a Harbor Freight Predator is straightforward. All you need are motor mount bracket, upgraded clutch, and the basic tools..
Installing a predator engine on your golf cart requires the following tools
Wrench
Screwdriver
Pliers
Ratchet set with socket and extension bars
Preparing for the Installation Process
Before diving headfirst into the installation process, it's crucial to gather all necessary tools and ensure your workspace is ready for this exciting endeavor.
Preparing for the installation process of a Predator 420 engine onto your golf cart involves more than just a trip to Harbor Freight. You'll need an engine mount and a clear understanding of what you're about to undertake.
So let's roll up our sleeves and get started!
Removing the Stock Golf Cart engine
Like a seasoned surgeon preparing for a heart transplant, it's time to delicately remove the current engine from your cherished golf cart.
Your original motor needs to be carefully removed from its snug spot in your vehicle.
Start the process by carefully detaching all the wires from their corresponding sockets on both engines. Also, make sure to unfasten any tubes or connections between them. If there are any obstructions making your task difficult, like seats for instance, don't hesitate to take them out too.
Next, cautiously loosen each bolt surrounding the brackets that secure the motor mounts. But be careful not to loosen the nuts too much, as we don't want things falling apart prematurely.
Proceed to disconnect any wiring harnesses and hoses that link from your old golf cart battery or gas tank. The bracket/mount must also be removed from the frame of your golf cart by removing the four screws on both sides.
Once you've done this, lift the bracket/mount off the motor mounts and set it aside. Repeat this step on the other side as well.
Consequently, it's possible to unplug any wire harnesses or hoses that are attached to the engine, as well as the old battery or fuel tank.
All four screws securing the battery to the frame of the golf cart must be unscrewed. Repeat this process on the other side as well.
Your old engine's wiring harnesses and hoses should now be disconnected.
When you're ready to install the new engine, start by mounting one bracket at the front left-hand corner near the steering column. Then, attach the second set just an inch towards the rear axle shafts.
As you let go of your old engine, remember the service it has provided you. Give it a respectful send-off!
Mounting the Predator 420
Each brand of golf cart (E-Z-Go, Club Car, etc.) is going to require it's own bracket configuration. These can be made from your own materials and measurements, or you can purchase a premade kit. VegasCarts sells an all inclusive kit for your model and eliminates the need to hunt down the clutch and exhaust parts on your own.
Connecting the Electrical System
Once you've got your beast bolted in, it's time to awaken the sleeping giant by connecting the electrical system. This is a task that'll make you feel like a literal spark of life charging through your veins.
Attach wires using premade wire harnesses and spark plug wire connectors for this performance upgrade.
Testing the New Setup
After all the hard work, it's finally time to fire up that beast and feel the surge of power under your feet as you test out the new setup.
With your upgraded Predator 420 engine replacing the old gx engine, your golf cart engine upgrade is complete.
Take a ride, listen for smooth operation, and revel in this exciting phase of testing the new setup.
Maintenance Tips for the New Engine
Air Filter Element Maintenance
Remove the air filter cover and the air filter elements
and check for dirt. Clean as described below.
Cleaning:
For "paper" filter elements:
To prevent injury from dust and debris,
wear ANSI-approved safety goggles,
NIOSH-approved dust mask/respirator, and
heavy-duty work gloves. In a well-ventilated
area away from bystanders, use pressurized
air to blow dust out of the air filter. If this
does not get the filter clean, replace it.
For foam filter elements:
Wash the element in warm water and
mild detergent several times. Rinse.
Squeeze out excess water and allow it to dry
completely. Soak the filter in lightweight oil
briefly, then squeeze out the excess oil.
3. Install the cleaned filter. Secure the Air Cleaner Cover before use.
Spark Plug Maintenance
Disconnect spark plug cap from end of plug. Clean out debris from around spark plug.Using a spark plug wrench, remove the spark plug.
Inspect the spark plug:
If the electrode is oily, clean it using a clean, dry
rag. If the electrode has deposits on it, polish it
using emery paper. If the white insulator is cracked
or chipped, the spark plug needs to be replaced.
Use only NHSP®/Torch® F6TC spark plug.
NOTICE: Using an incorrect spark
plug may damage the engine.

When installing a new spark plug, adjust the
plug's gap to the specification on the Technical
Specifications chart. Do not pry against the
electrode, the spark plug can be damaged.

Install the new spark plug or the cleaned spark plug
into the engine. Gasket-style: Finger-tighten until
the gasket contacts the cylinder head, then tighten
about 1/2-2/3 turn more.
Non-gasket-style: Finger-tighten until
the plug contacts the head, then
tighten about 1/16 turn more.
NOTICE: Tighten the spark plug properly.
If loose, the spark plug will cause the engine
to overheat. If overtightened, the threads
in the engine block will be damaged.

Apply dielectric spark plug boot protector
(not included) to the end of the spark
plug and reattach the wire securely.
Regularly check your Predator for any signs of wear.
Monitor your stock engine torque, ensuring it stays at optimal levels.