Last Updated on August 27, 2023 by Chuck Wilson
Harley Davidson golf carts are highly sought after as collector's items. Since the parts are rare and usually expensive when found, it is VITAL to know the year and model of the cart you are working on.
What year is my Harley Davidson Golf Cart? The year is listed on the serial plate and will be 1963 to 1982. The exact year and model are easily found using the tables below. Here are the steps to finding the serial locations, translations, and corresponding charts to identify your Harley Davidson golf cart.
Finding The Serial Plate
The design on these Harley Davidson golf carts was the rear end of the buggy can be lifted upward. The rear end is on a hinge and can be raised up to allow the owner to work on the engine and chassis. The company was starting to produce battery-operated vehicles at this time but were never as popular as the gas-powered type of cart. The hinge feature allowed easy access to both gas powered-engines and battery-powered carts.
Another collectible version is the older model HD with a steering wheel instead of the usual chrome tiller bar which had become common on golf courses. The most popular carts they produced were the 3-wheel versions. The older models bearing the Harley Davidson name have become very collectible, but the parts have become scarce. 
To determine the year of your cart you will need to find the serial number. On carts with a lift-up body, the specific information is located on a data plate mounted on the upper frame rail on the right or left side near the rear tire. On electric models, DE40 and MGIV without lift-up bodies, the serial number is located on a data metal plate under the driver's seat towards the passenger side.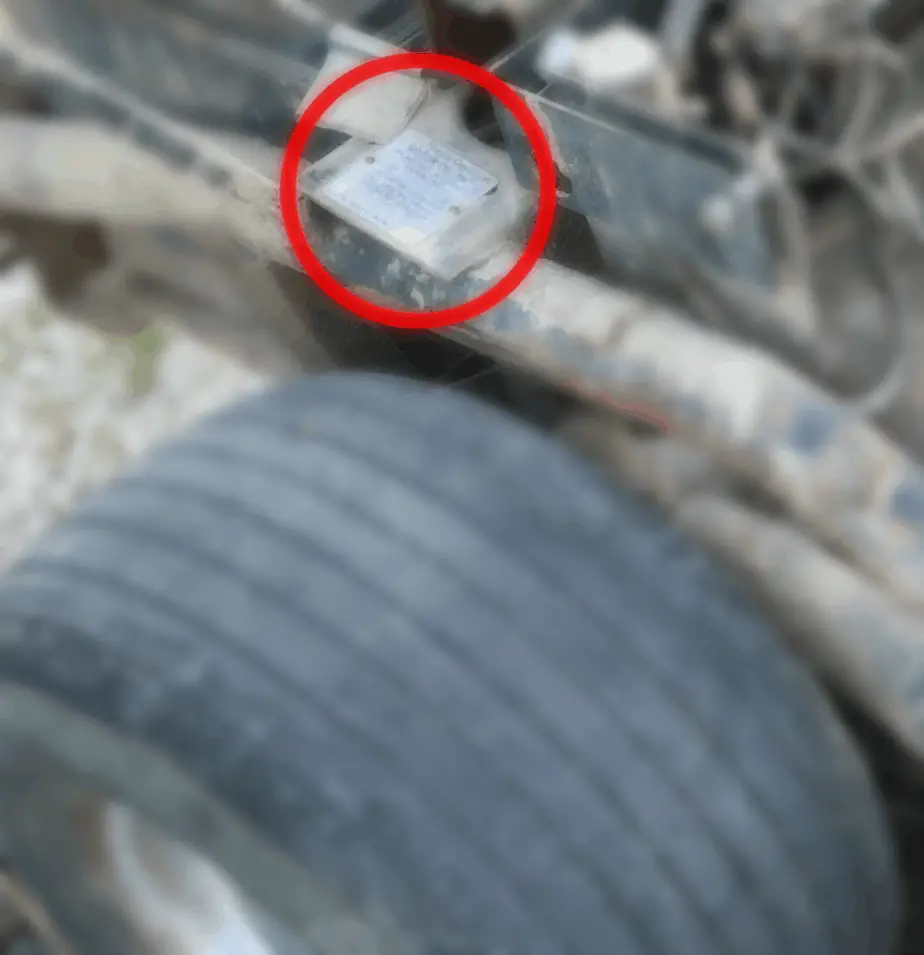 Reading The AMF Harley Davidson Serial Number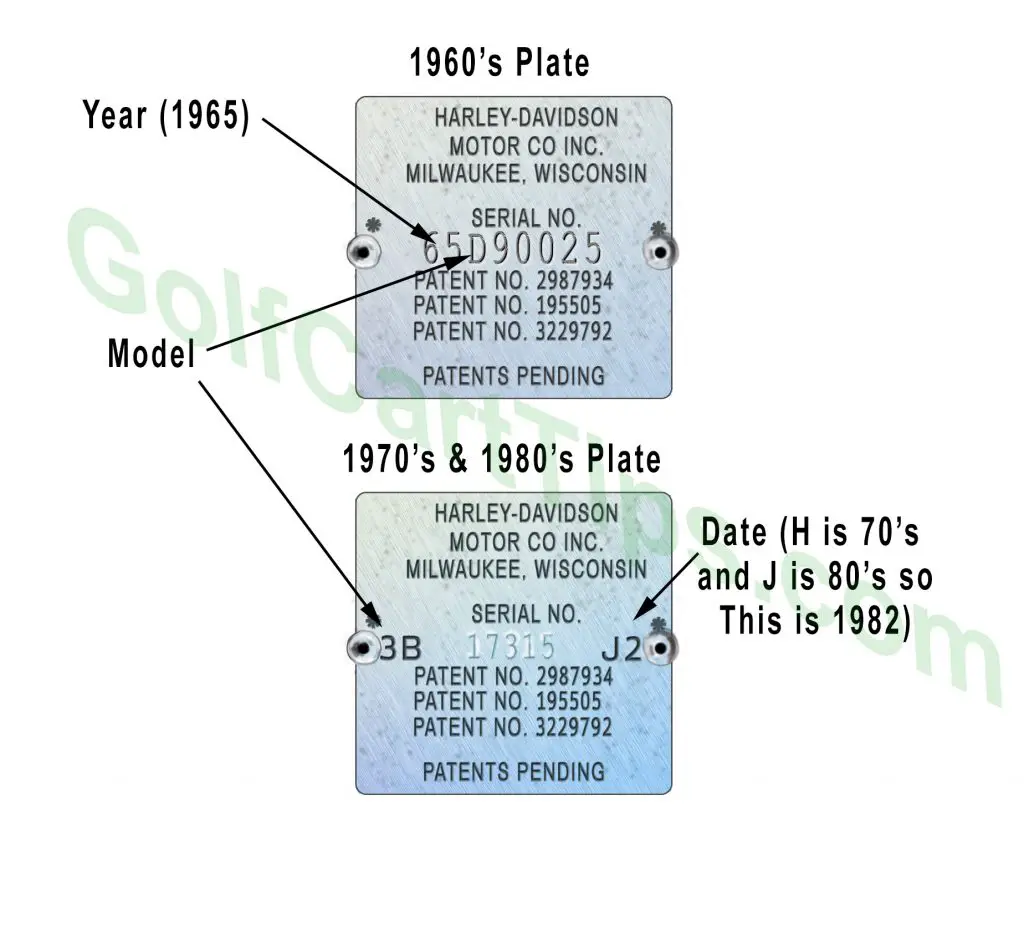 All carts made in the 1960s use the first two digits of the serial to denote the year and the next two are the model as in this example:
65D90025
This VIN would indicate that the cart was made in 1965 and is a model D (Gas Cart)-Three-Wheeled Models. If your cart was built in the 1970s or 1980s, it will reflect this format:
7C 12234 H6
This VIN indicates it was made by Harley Davidson in 1976 (H6) and is a 4-wheel Gasoline engine model D4 (7C). 1982 was the LAST year that AMF Harley Davidson produced golf carts.
The letter H = the '70s or J = the '80s shows the cart was manufactured by Harley Davidson The letter C means the '80s and D means the '90s designating Columbia as the manufacturer. The last number indicates the year of the decade.
Harley Davidson Gas and Electric Carts
D

Gasoline Golf Cart

3-Wheel

DE
Electric Golf Cart
3-Wheel
DF
Gasoline Personnel Carrier
3-Wheel
DEF
Electric Personnel Carrier

3-Wheel
DC

Gasoline Utilicar
3-Wheel
DEC
Electric Utilicar
3-Wheel

D4
Gasoline Golf Cart
4-Wheel (DX4 '82 on)
DE4
Electric Golf Cart
4-Wheel (DEX4 '82 on)
MG IV
Electric Master Glide IV
4-Wheel
Model
Year
Type
1963-1969
First 3 Digits XXD
First 4 Digits XXDE
3 Wheel Gas
3 Wheel Electric
1970-1979
Hx (i.e. H1=1971, H3=1973, etc.)
3B
3 Wheel Gas D3
4B
'71-76= 3-Wheel Electric D3
'77-83= 3-Wheel Electric DE3
7C
4 Wheel Gas D4
8C
4-Wheel Electric DE4
8D
4-Wheel Electric DE-40 76-78
1980-1982
Jx (i.e. J1=1981, J2=1982, etc.)
3B
3 Wheel Gas D3
4B
3-Wheel Electric DE3
7C
4 Wheel Gas D4
3K
4 Wheel gas D4 80's classic
8D
4 Wheel electric MG IV Challenger
5K
4 Wheel Gas DX4 '82
Chart continues with Columbia/Par Car after 1983
1983-1989
C3-C9 (i.e. C3=1983)
3B
3-Wheel Gas D3
4B
3-Wheel Electric DE3
5K
4-Wheel Gas DX4
6K
4-Wheel Electric DEX4
7K
Gas Utility
8K
Electric Challenger
9K
Electric Utility DE4
2L
4-Wheel Gas P4G
3L
4-Wheel Electric P4E
1990-1995
Dx (i.e. D4=1994)
2L
4-Wheel Gas P4G
3L
4-Wheel Electric
5K
4-Wheel Gas Classic
6K
4-Wheel Electric Classic
7K
4-Wheel Gas Utility
9K
4-Wheel Electric Utility
2M
4-Wheel Electric Shuttle
3M
4-Wheel Gas Shuttle
1996-PRESENT
BE
4-Wheel Gas
4E
4-Wheel Electric
Further identification can be done on electrical engine models by comparing the solenoid arrangement on the firewall of the vehicle. This is a broad range of vehicles and doesn't pinpoint an exact year, but sometimes the serial tag is missing or just too corroded to be of any use.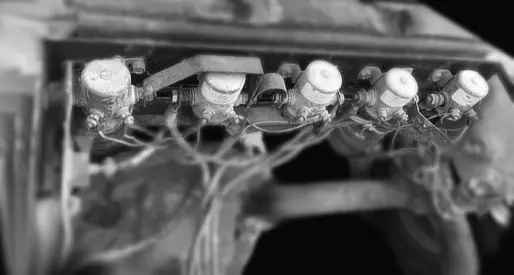 ---
Dimensions

Model & Year
Wheel Base (inches)
Length (inches)
Width (inches)
Overall Height (inches)
Ground Clearance (inches)
Weight (lbs.)
DC
1963-65
59.5
92.0
42.25
36.0
4.6
660
DC
1966-68
60.5
93.5
42.25
38.0
5.0.
755
DC
1969-72
70.5
98.5
45.25
38.0
5.0
760
D
1963-66
59.5
92.5
45.25
42.5
36 - 1965 only
4.6
624
D
1967-76
60.5
91.0
46.0
40.25
4.5
694
D
1977 and Later
60.5
91.0
45.25
47.0
4.5
693
D4
1972-76
67.0
102.0
45.2
42
4.5
821
D4
1977 and Later
67.0
102.0
45.25
47.0
4.0
821
---
Harley Davidson Golf Cart History
The Harley Davidson Motorcycle Company started making golf carts in 1963, the same time William Davidson joined the company. The first carts were 3-wheel vehicles and the company expanded the models to include four-wheel carts before the company was purchased by American Machine and Foundry Company (AMF) in 1969.
Elvis Presley owned a Harley Davidson golf car, not for playing golf, but to navigate the  Graceland property acreage in Memphis.
Elvis Presley's Harley-Davidson Golf Cart
Elvis Presley's Harley-Davidson golf cart was a 1967 model (purchased before AMF bought H-D) that was auctioned along with a 1976 Electra Glide bike to benefit Elvis Presley's Foundation. This was a three-wheel model that was succeeded by the permanent adoption of the 4-wheel through the remainder of their cart production.
The golf bag holder on the rear of the cart was a bit of a failure in design. The clubs were mounted at a 45-degree angle out the back and had a tendency to dump the clubs when driving uphill.
In 1969 Harley Davidson's company was acquired by American Machine and Foundry Company (AMF) and in 1971 they changed their name to AMF. Carts were first labeled with the AMF logo in 1972. AMF continued production until 1981 when Columbia ParCar purchased the Harley Davidson golf car division. Columbia dropped the Harley Davidson Name in 1982.
What else does Columbia own? In 1951 Merle and Peggy Williams started manufacturing golf carts under the name Marketeer and sold the company to Westinghouse in 1965. Westinghouse sold this division to Nordskog in 1978 and following the death of Bob Nordskog in 1993, the company was sold to U.S.Electricar. Legend Electric Vehicles purchased U.S.Electricar in 1996 and was in turn purchased by Columbia ParCar in 1999.
What Year Is My Columbia Par Car Golf Cart?
After The Harley Davidson name was dropped, Columbia continued with the ParCar.
The serial number can be found above the rear wheel under the body or under the dash on the passenger side. The year is in the last digits of the serial number.
The first two digits indicate the model:
2L – P4G Gas golf cart
3L – P4E Electric golf cart
5K – Gas golf cart
6K – Electric golf cart
7K – GU4 Gas Utility Truck
9K – EU4 Electric Utility Truck
2M – C6E Electric Shuttle
The following digits are the serial number…except the last two. These indicate the decade by letter and year by number.
Letter codes are
C-1980
D-1990
E-2000
The last number is the year in the decade. For example: 7K21190-C5 = 1985
or 3L14456-D1 = 1991
In Conclusion
Harley Davidson is world-renowned for the iconic motorcycle, but most are unaware of the awesome golf cart line that began in the '60s. Harley Davidson produced the golf cart for 19 years total, and the distinctive " Classic" body style changed very little during those years. They began with a 3-wheeled machine (and later introduced a 4-wheel version). In 1963, the powerplant was a 245 cc dual cycle single-cylinder air-cooled engine that used oil mixed with gas.
The HD golf cart is now a classic piece of machine history and is considered a worthy treasure to be sought out, purchased, and restored by cart buyers, collectors, and enthusiasts alike.