People often need to know how wide their golf cart is before actually buying one due to the size of the enclosure, truckbed, or trailer they already have available. Each manufacturer and model is slightly different, but you can get a general idea of your future golf cart dimensions in advance to your purchase by using these averages…
The average golf cart is 4 feet wide
The average golf cart is 8 feet long
The average golf cart weighs 950 lbs.
The details of each of the top three manufacturer's products are listed here below for a more precise fit, should you need them.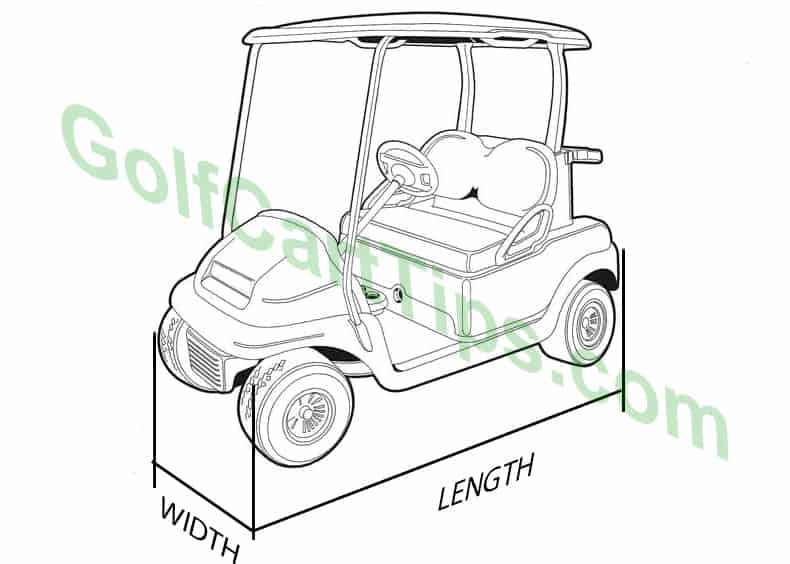 This is a list of 40 golf cart dimensions divided by manufacturer:
Ez Go Golf Cart Dimensions And Weight
An Ez Go golf cart length ranges from 7ft. 9 1/2in. to 11ft. 9 1/2in and the width averages at 48in.
| Model | Dimensions | Weight With Batteries | Weight Without Batteries |
| --- | --- | --- | --- |
| Freedom RXV Gas | 7ft. 9.5in. length x 3ft. 11in. width | 747 lbs | 697 lbs |
| Freedom RXV Electric | 7ft. 9.5in. length x 3ft. 11in. width | 970 lbs | 642 lbs |
| Freedom RXV ELiTE | 7ft. 9.5in. length x 3ft. 11in. width | 774 lbs | 674 lbs |
| Freedom RXV 2+2 Gas | 8ft. 9.5in. length x 3ft. 11in. width | 825 lbs | 785 lbs |
| Freedom RXV 2+2 Electric | 8ft. 9.5in. length x 3ft. 11in. width | 1002 lbs | 674 lbs |
| Freedom RXV 2+2 ELiTE | 8ft. 9.5in. length x 3ft. 11in. width | 859 lbs | 759 lbs |
| Freedom TXT Gas | 7ft. 9in. length x 3ft. 11in. width | 750 lbs | 706 lbs |
| Freedom TXT Electric | 7ft. 9in. length x 3ft. 11in. width | 972 lbs | 606 lbs |
| Freedom TXT ELiTE | 7ft. 9in. length x 3ft. 11in. width | 638 lbs | 588 lbs |
| Freedom TXT 2+2 Gas | 8ft. 10in length x 3ft. 11in. width | 896 lbs | 861 lbs |
| Freedom TXT 2+2 Electric | 8ft. 10in length x 3ft. 11in. width | 1036 lbs | 658 lbs |
| Freedom TXT 2+2 ELiTE | 8ft. 10in length x 3ft. 11in. width | 859 lbs | 759 lbs |
| 72-Volt Freedom | 7ft. 9.5in. length x 3ft. 11in. width | 1200 lbs | 573 lbs |
| Express S4 Gas | 9ft. 6in. length x 4ft 1/2in. width | 984 lbs | 937 lbs |
| Express S4 Electric | 9ft. 6in. length x 4ft 1/2in. width | 1210 lbs | 844 lbs |
| Express S4 High Output | 9ft. 6in. length x 4ft 1/2in. width | 1210 lbs | 844 lbs |
| Express S6 Gas | 9ft. 6in. length x 4ft 1/2in. width | 1039 lbs | 992 lbs |
| Express S6 Electric | 135.8 in. length x 49 in. width | 1456 lbs | 964 lbs |
| Express L6 Gas | 11ft. 9 1/2in. length x 4ft. 1in. width | 1110 lbs | 1063 lbs |
| Express L6 Electric | 11ft. 9 1/2in. length x 4ft. 1in. width | 1560 lbs | 964 lbs |
| 2Five Electric | 8ft. 11 1/8in. length x 3ft. 11 1/3in. width | 1200 lbs | 872 lbs |
| Valor | 8ft. 11 1/8in. length x 3ft. 11in. width | 816 lbs | 776 lbs |
Club Car Golf Cart Dimensions And Weight
| Model | Dimensions (Height omitted - Varies With Top/No Top) | Weight With Batteries | Weight Without Batteries |
| --- | --- | --- | --- |
| Onward Lifted 4 Passenger Electric | 9ft. 6in. length x 4ft 1-1/2in. width | 1125 lbs | N/A |
| Onward Lifted 4 Passenger Gas | 9ft. 6in. length x 4ft 1-1/2in. width | 875 lbs | N/A |
| Onward 4 Passenger Electric | 9ft. 0in. length x 4ft. 3/4in. width | 1070 lbs | N/A |
| Onward 4 Passenger Gas | 9ft. 0in. length x 4ft. 3/4in. width | 795 lbs | N/A |
| Onward 2 Passenger Electric | 7ft. 8in. length x 4ft. 3/4in. width | 975 lbs | N/A |
| Onward 2 Passenger Gas | 7ft. 8in. length x 4ft. 3/4in. width | 675 lbs | N/A |
| Precedent Stretch PTV | 9ft. 6in. length x 3ft. 11-3/4in. width | 1176 lbs | N/A |
| Villager 2 Electric | 7ft 6in. length x 3ft 11in width | 909 lbs | N/A |
| Villager 2 Gas | 7ft 6in. length x 3ft 11in width | 651 lbs | N/A |
Yamaha Golf Cart Dimensions And Weight
| Model | Dimensions (Height omitted - Varies With Top/No Top) | Weight With Batteries | Weight Without Batteries |
| --- | --- | --- | --- |
| Drive 2 - Fleet | 93.6 in. length x 47.3 in. width | 720 lbs | N/A |
| Drive 2 - PTV | 7ft. 9-5/8in. length x 3ft. 0-1/3in. width | 720 lbs | N/A |
| Concierge 4 | 10ft. 8in. Length x 3ft-11-2 1/2 in. width | 767 lbs | N/A |
| Concierge 6 | 13ft. 5 1/2in. length x 3ft 11 47 2 1/2in. width | 1010 lbs | N/A |
| Adventurer Sport | 8ft. 11-3/4in. length x 4ft. 3in. width | 823.4 lbs | N/A |
| Adventurer Sport 2+2 Gas | 9ft. 10-3/4in. length x 4ft. 2-3/4in. width | 905 lbs | N/A |
| Adventurer Sport 2+2 Electric | 9ft. 10-3/4in. length x 4ft. 2-3/4in. width | | 788.1 lbs |
| Umax One | 9ft. 3-1/2in. length x 4ft 1-3/4in. width | 930 lbs | N/A |
| Umax Two | 9ft. 11-3/4in. length x 4ft. 1-3/4in. width | 1003 lbs | N/A |