Last Updated on September 19, 2023 by Chuck Wilson
So you've taken up golf as a hobby, or you've got a large farm acreage that you need to get around easily. Grandma turned 80 and needs to get to the neighbor's house down the road, or you need to move things around your landscape without wearing out your back. Welcome to the golf cart-buying community!
So, how much does a golf cart cost? New golf cart prices for a base model have an average cost of $6,800 and used golf carts cost around $2,400 on average for a good-condition golf cart. Extra features, such as lift kits, will raise and lower the price range.
How Much Is A Golf Cart New?
The new golf cart is going to have reliability and a limited warranty is definitely an advantage over a used vehicle, but it's going to get a little spendy. The price difference might be worth it since you will not spend a lot of time and money in maintenance.
A new golf cart may be purchased as a street-legal vehicle and have all the necessary unique features and insurance requirements for use on public roads. These items are:
Headlights
Taillights
Brake lights
Turn signals
Windshield
Horn (in some counties)
Seat belts
Rearview mirrors
Driver's license and tag
VIN and registration
Insurance (Liability Insurance Requirements will vary in price depending on how the golf cart is used. An insurance policy can be added to your regular car policy.)
Let's look at a few basic models to get an idea of what you will spend on a new golf cart.
Best Golf Cart Brands
The three top manufacturers are EZGO, Club Car, and Yamaha. They have been around for a few years and are very well made. They are easy to find parts and services for and accessories are freely available from dealerships and Amazon. We have thrown in a few others such as Polaris and Star for comparison of the price difference.
Buying a used golf cart means a lower price range, usually half of a new cart, but a cheap initial purchase can get zeroed out if you buy a cart that is ready to be refurbished. If the cart has already been refurbished, then you stand to win out on a better deal and price overall.
Visiting a golf course and renting their not-for-sale golf carts could give you some drive time with a model you are interested in.
Club Car golf carts are the best-known golf cart brand and so the price range is a bit higher for the name and reputation. Let's begin with Club Car then…
Club Car Golf Carts
This model golf cart has a price range starting at $8,074 at this writing for a basic 2-passenger electric and no roof ($370 extra), $8,740 for the 2-passenger gas-powered model. Extras include a windshield, mirrors, enclosures, and tire upgrades.
While the Club Car gasoline version of this new golf cart is quite a bit more expensive, it might be a better option than the electric ones. It has some features that put it above and beyond the electric model, such as a 14 hp 429 cc Kohler, Overhead Valve (OHV) engine with a top speed of 19 miles per hour. There's a fuel tank capacity of 6 gallons and weighs about 300 pounds less than the Club Car electric version allowing you to go faster.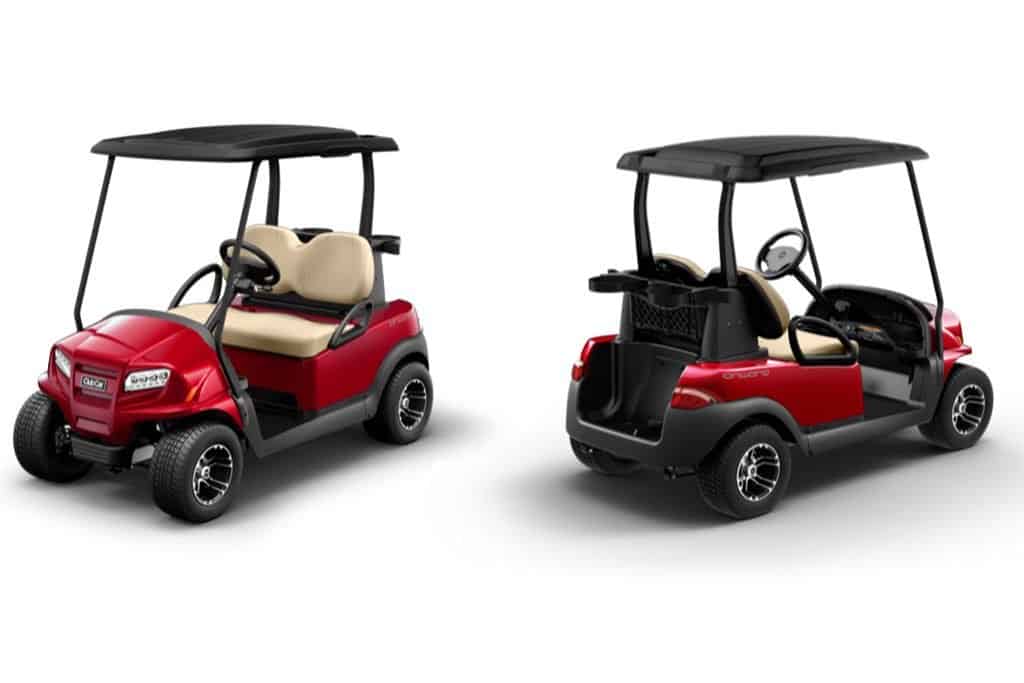 ---
Onward 4 Passenger Golf Cart – Cost $13,005
This Club Car golf cart has a price of $8,959 at this writing for a basic 4-passenger seat electric and no roof ($465 extra), $9,687 for the 4-passenger seat gas-powered model. The Lithium-Ion powered model lists for $12,186. Extras include a windshield, mirrors, enclosures, and tire upgrades.
As noted above, the gasoline version of this cart has a higher price point but has far more horsepower than the electric version. It has a 14 hp 429 cc Kohler, Overhead Valve (OHV) engine with a top speed of 19 miles per hour. There's a fuel tank capacity of 6 gallons and weighs about 300 pounds less than the electric version allowing more speed.

---
Onward 6 Passenger Golf Cart – Cost $17,180
This Club Car model has a price point of $17,160 at this writing for a basic 6-passenger gasoline and includes a roof, $18,682 for the 6-passenger electric-powered model. Extras include a windshield, mirrors, enclosures, and tire upgrades.
It has a 14 hp 429 cc Kohler, Overhead Valve (OHV) engine with a top speed of 19 miles per hour. There's a fuel tank capacity of 6 gallons and weighs about 300 pounds less than the electric version.

---
Villager 2 LSV – Cost $9,856
It's time to get in the open air and around the neighborhood. Club Car makes a street-legal model called the Villager 2 Electric LSV. The starting new golf cart price for this vehicle is $9,856. The Club Car Villager comes with a 360-degree wrap-around bumper, strong rustproof aluminum frame with up to 30 miles on one charge. Comes standard with 3-point seat belts, safety-glass windshield with windshield wiper, and advanced onboard diagnostics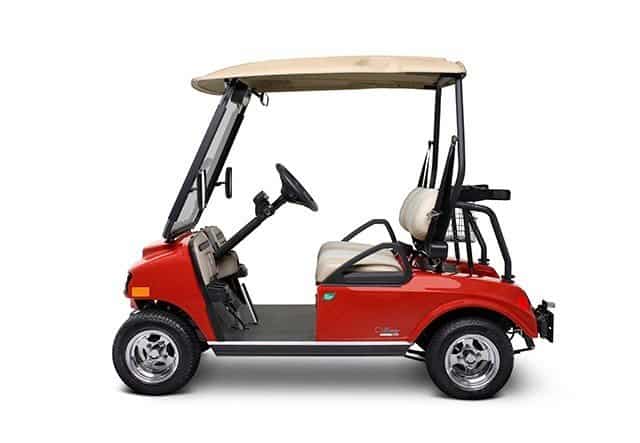 ---
Villager 2 PTV Golf Cart – Cost $6,729
A Personal Transport Vehicle that features a rustproof, corrosion-resistant aluminum frame, Club Car SportsDrive steering, and suspension system for a smoother ride, 360 wrap-around bumpers, headlights, taillights, and a horn. It also includes 205/50-10 Kenda Pro Tour tires, 10-inch Champion alloy wheels, and front and rear safety reflectors.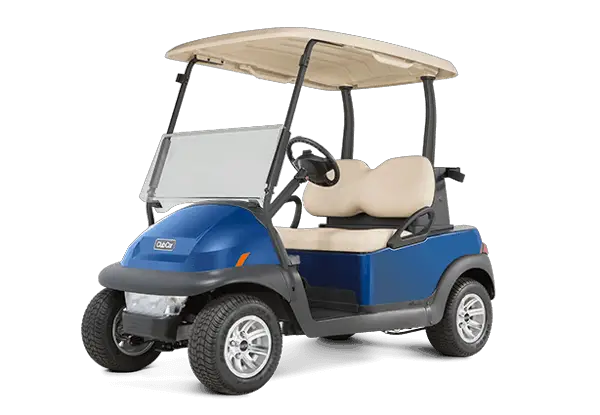 ---
E-Z-GO Golf Carts
EXPRESS S4 ELiTE Golf Carts – Cost $15,059
The ELiTE series is the maintenance-free Samsung SDI lithium batteries powered vehicle.
EXPRESS S4 Gas Golf Carts – Cost $12,359
13.5-hp gas engine with closed-loop electronic fuel injection, standard brush guard, convertible rear seat. The top is $452 extra.
---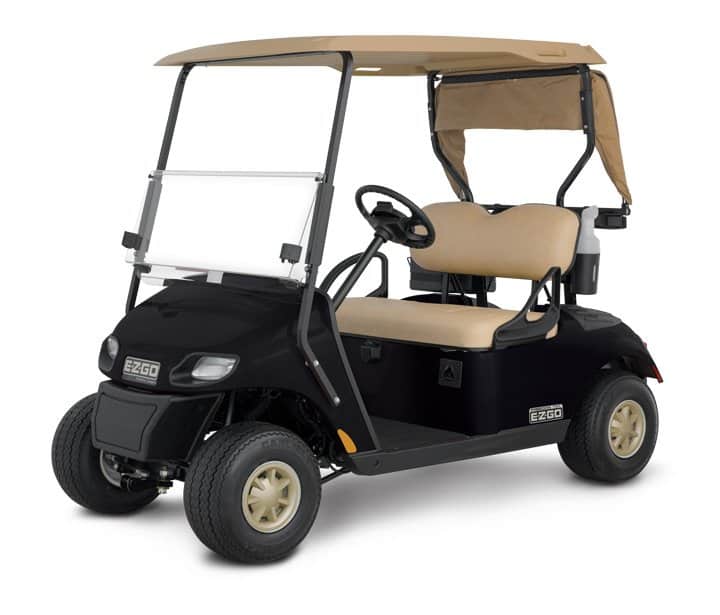 ---
72-Volt Freedom Golf Carts – Cost $9,299
This Freedom model features a 72-volt AC powertrain, state of charge meter, standard LED headlights and turn signals, and custom 10″ Daytona wheels mounted on Loadstar tires.
Freedom RXV Gas Golf Carts – Cost $8,099
The Freedom RXV Personal Transport Vehicle Gas-powered golf cart price starts at $7,899, the electric models start at $7,799, and the zero maintenance lithium battery ELiTE models start at $9,699.
Unique features of the E-Z-GO RXV are its welded steel frame with powder coating and a body is made of an injected molded TPO. The available color options are Almond, Black, Bright White, Ocean Grey, Electric Blue, Flame Red, Charcoal, Platinum, and Inferno Red.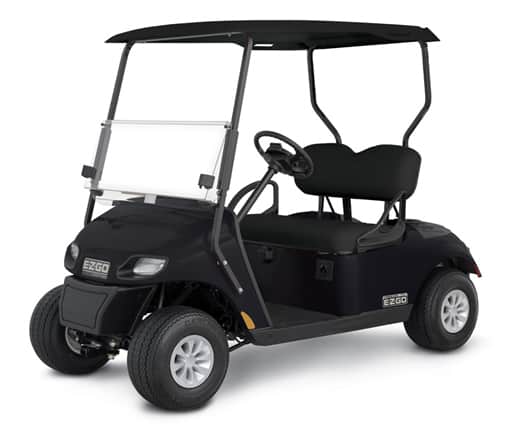 ---
Valor Golf Carts – Cost $6,549 Gas, $6,399 Electric
This is an economy model of golf cart available in Electric Blue or Black. The gas model comes with a 13.5-hp gas engine, 12-volt maintenance-free battery, headlights, and taillights. The electric model also comes with a 48-volt DC powertrain, state of charge meter, and storage compartment.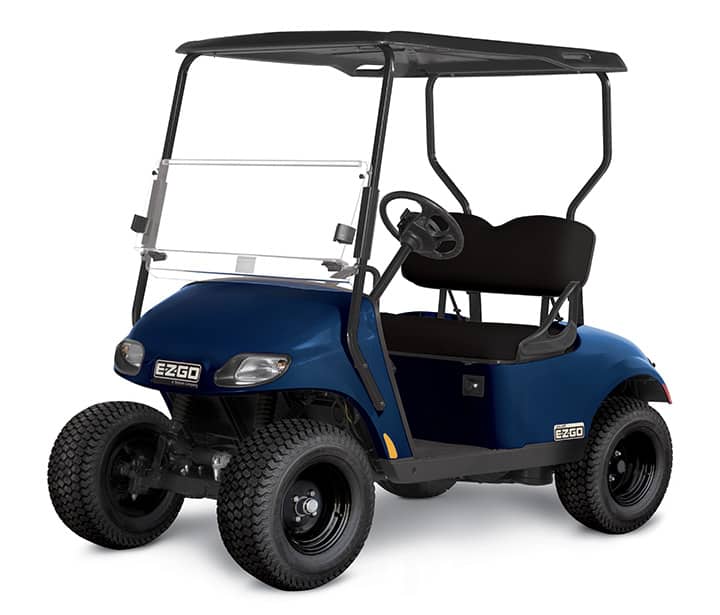 ---
The street-legal fully equipped model features a 48-volt AC drivetrain, a back-up camera, 3-point seat belts, and plenty of storage. It also comes with DOT street legal 205-50-10 radial tires advanced IntelliBrake technology.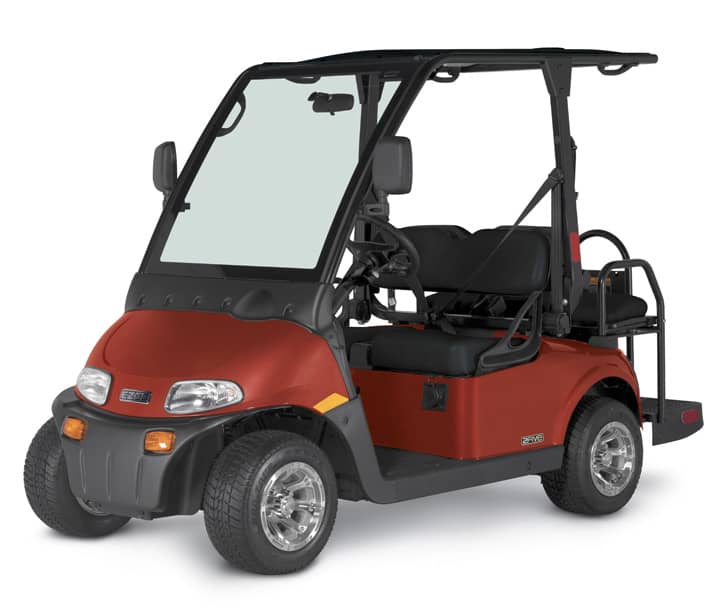 ---
This model was on a limited run and all three models came with four forward-facing seats and a standard Bazooka soundbar. This was only available in Seafoam Green.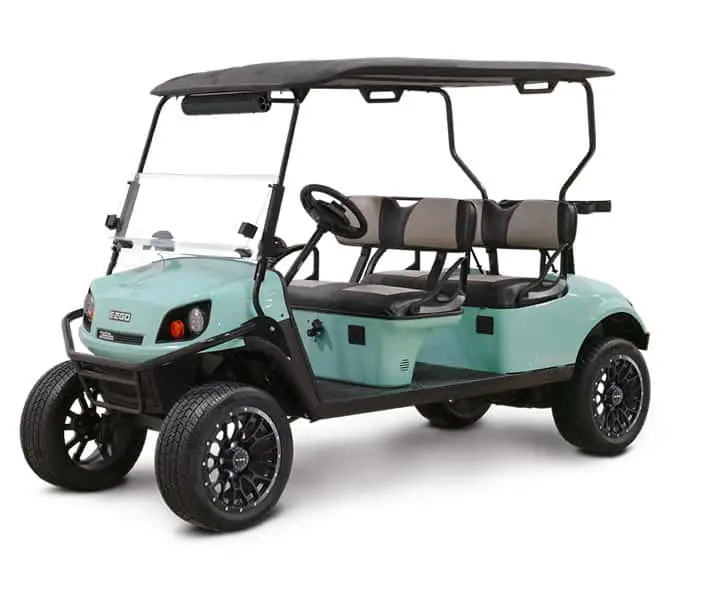 Yamaha Golf Carts
Drive 2 Fleet – $6,445
Yamaha has a wide selection of carts available for both personal transportation and off-roading. The golf model is the Drive2 Fleet with the base gas model golf cart price starting at $6,445, and the electric model starting at $6,690. The cart comes standard with a glacier white color, and different color options run $50 – $130 extra.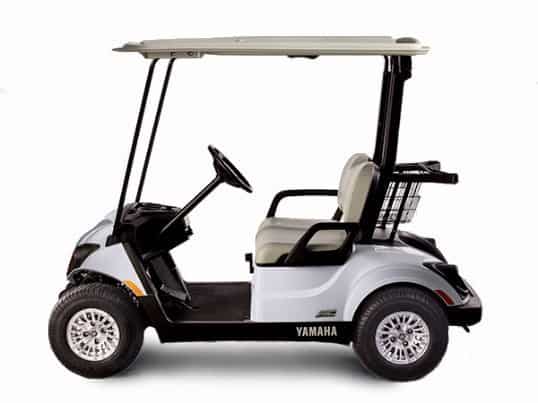 ---
Yamaha Adventurer Sport 2+2 golf cart prices are quote only and it is capable of running the backwoods trails. It has a maximum output of 11.5 hp with a top speed of 15 miles an hour.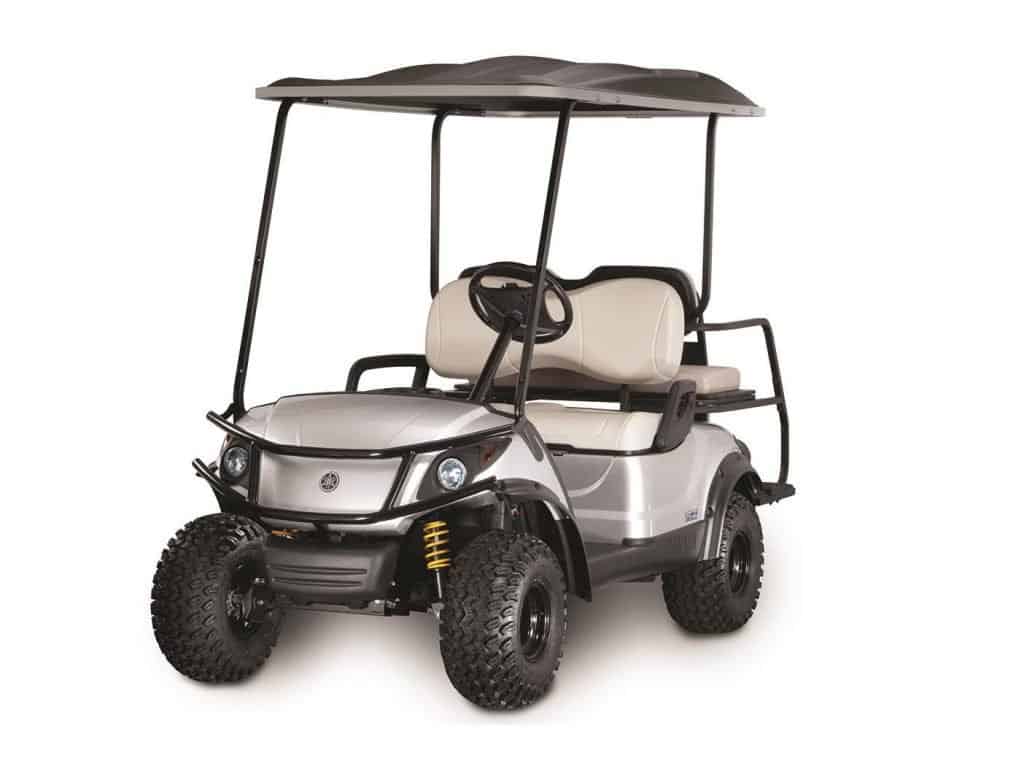 ---
Okay, now we get into the more expensive brands.
Polaris Golf Carts
GEM e2 Golf Carts – Cost $10,299
Polaris GEM e2 2-passenger golf cart prices start at $10,299. The GEM e4 is a 4-seat model and starts at $13,409. The GEM e6 is a 6-seat model and starts at $16,049. The GEM e2 is marketed as a golf cart alternative and is actually a street-legal lsv. They're equipped with headlights, taillights, power steering, windshield wipers, etc.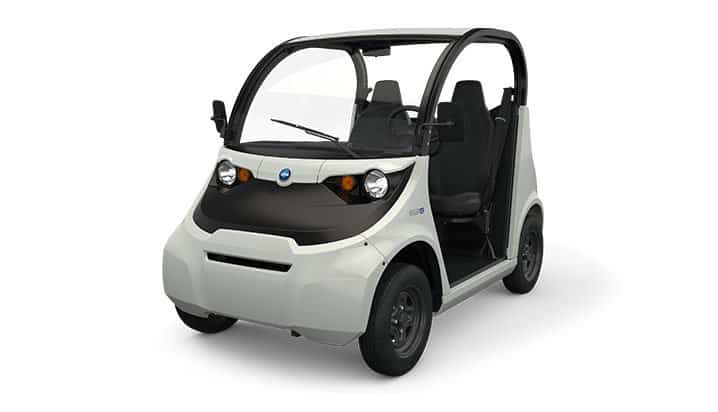 ---
Star Golf Carts
EV Sirius Golf Carts – Cost Requires A Quote
Star EV Sirius 48V electric 2-passenger golf cart prices started at $9,499 in 2019 and is a street-legal LSV. Star electric vehicles (star EV) is owned by J H Global Services. It is primarily sourced out of China, so getting parts may be an issue.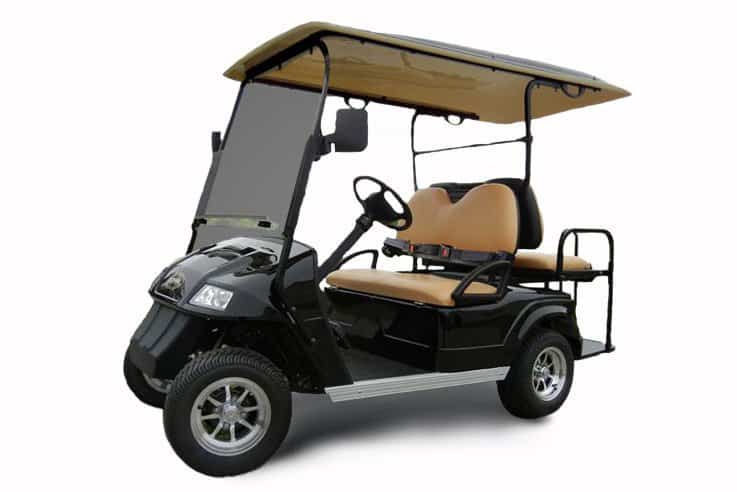 ---
Garia Golf Carts
Golf Carts – Cost Approx. €17,001.25
Garia Golf electric 2-passenger golf cart prices start at $20,140 and you can see that this vehicle from Denmark has a kind of BMW luxury feel to it. This cart's price goes through the roof when you add options like lithium batteries and custom accessories.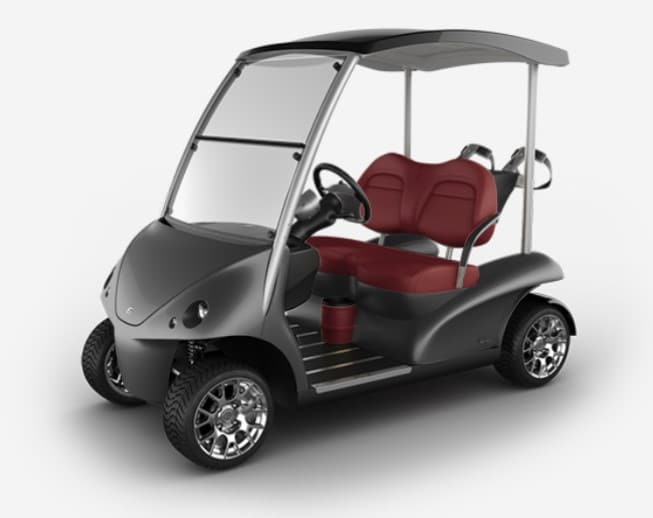 ---
How Long do Golf Carts Last?
A long time – if you take care of them. Seriously, on gas-powered carts, if you make the effort to change the oil and filters when it is scheduled to be done, the gasoline engine will last a good long time. My own cart is 23 years old and the engine is original and quite strong on hill climbs and touring the golf course.
You can count on the battery(ies) being replaced periodically, and the gas engines can be around for many years with proper care, but we are seeing some used golf carts that are 60 years old.
Electric carts are (aside from the batteries) around a long time because of the fewer moving mechanical parts.
So, New Golf Cart or Used Golf Cart?
There isn't a golf cart Kelly's Blue Book for determining value, so you will have to look at the average golf cart price people are asking for and paying in the classifieds. Check Craigslist and eBay also to get a good ballpark idea.
The following sections in this article should help narrow down your choices
How Much Are Used Golf Carts?
The average used golf cart is between $2,000 and $5,000. When adding up the price of a used golf cart, keep the following factors in mind:
What are you using it for?
Do you play golf and want to avoid the rental fees at the local golf club? Keep in mind that if you are not close enough to the course, you will be purchasing a trailer and a hitch to get the cart there.
A pickup bed could be used if the cart is small enough and the bed is long enough. This is usually only a short term measure because of the extra work setting up the ramps. Using boards to do this is dangerous and unstable. pre-fabricated ramps tend to be expensive and are still a bit risky to drive on. A new, well-constructed trailer is approximately $1,200 to $2,500 add your safety is worth the added expense.
Not a golfer?
Perhaps you will be using this as an environmentally friendly conveyance around the neighborhood. Now we are talking about some accessories you will need to add. A windshield, headlights, taillights, and a horn should be considered into the golf cars sale price.
If you will be using it to do some off-roading or hunting, then you will probably need to put a lift kit on it to increase the ground clearance, and heavy-duty traction tires to get up the hillsides and ravines.
Speaking of ravines, many of the carts being used off-road are equipped with a winch to haul them out of the mud or a high-center hangup.
How many people will be in the cart at once?
A common cart configuration is a two-passenger seat capability. If you need to transport 3 or more people, you will need rear seats. These are easily installed on carts built in the last two decades.
Adding an extra two passengers also adds the need for a couple of extra expenses. In most cases, the body with the added seating capacity is still using the original frame and suspension as before. This means in order to meet safety issues, you will need a beefed-up suspension, brakes, frame, and engine.
Other Considerations
As with all purchases of used equipment, there is always the risk of a major part breaking down or wearing out shortly after you have traded your hard-earned coin for your new ride. The savvy buyer will look at the high-dollar components closely and determine if there is enough value in the purchase price to warrant the risk of potential future expenses.
A used golf cart's price can also depend on how many options the previous owner has installed. If I'm going to be working on the cart by myself and want a turn-key basic cart. I will be purchasing one that has only the basics and all the customizations will be done to my tastes.
An electric golf cart will have expensive golf cart batteries (not the same as automotive batteries) to consider. Always remember that the average battery life is 5-7 years, check the date stamped on the battery terminal, and determine how much longer before replacement is necessary.
Flooded lead-acid batteries have the date code stamped on the top of the terminal using two letters and a number. The first letter refers to the month it was manufactured: A through L refers to January through December. The number refers to the year in which the battery was made. As an example, a 7 would be 2017 (batteries do not last long enough for it to be 2007). If the date code has been painted over or removed, count on having to replace the batteries in order to have reliable transportation.
Golf cart tires would be the next things to take into consideration for replacement. Checking them for rubber rot (especially carts from a very hot and dry climate like Arizona) and the degree of wear and can be checked out and added to the overall price consideration.
A used golf cart is the best way to go if you're working on a budget and you don't mind putting in a little extra maintenance and upkeep time. There is the added advantage of not worrying about a scratch or two if you're ready to get right down to hauling materials around the property.
When buying a used golf cart from a dealer, they usually take care to inspect the cart thoroughly and take care of any issues that might devalue the cart. Buying from an individual means that you'll have to take the owners word on how reliable the cart is, but you can usually get your best price from a one-on-one negotiation.
Electric Golf Cart Prices vs Gas Golf Cart Prices
When pricing a golf cart, you will want to weigh the pros and cons of both types of motors. This doesn't affect the current purchase price but will impact the overall cost and convenience of the vehicle.
Electric Golf Cart Pros
No emissions or fumes.
Quieter to operate.
Have fewer moving parts and therefore have fewer components that can fail.
Cleaner to run.
No gasoline to buy, just plug it in at home.
Easy to diagnose any failures because it usually has an on-board computer.
Fast acceleration.
The cost of maintenance is fixed in the cost of the battery replacements.
Electric Golf Cart Cons
Expensive batteries to replace every 3 – 5 years.
It is difficult to estimate run time and the range is limited by the charge.
Time to recharge: Deep cell charge is usually overnight.
Gas Golf Cart Pros
Usually faster top speed than electric.
The range is virtually unlimited.
Easy to tune it up.
More power to pull and carry loads.
Gas Golf Cart Cons
Louder to use.
More maintenance involved.
Exhaust fumes.
Cost of fuel and the time to purchase and deliver gasoline to the cart.
A Story
I recently went to an estate sale that had a golf cart in the inventory for sale. It was a 2008 model E-Z-GO golf cart (electric) and they had it priced at $1,950. It seemed to be in perfect condition, so I checked the batteries and they were only three years old and took it out on a test run. There were no lift kits installed nor other accessories, but the cart seemed to check out okay to me. By the time the sale was over, the price had dropped to $1,500. I happened to stop by the cart dealership that I bought mine from and mentioned the particular vehicle for sale.
This brought about much rolling of the eyes and admonitions to stay away from that one. It seems that this particular cart had a history of always having something wrong with it and that the previous owner had abused it quite a bit. Yes, the batteries are only three years old, but the owner had boiled them dry twice and they weren't holding a charge for nearly as long as they were supposed to. There were also electrical problems that could be directly attributed to the cart being left out in the elements.
I had thought it was a pretty good deal, but it appears that I got lucky after hearing the true history of this cart. You can never tell.
Conclusion
As you can see, a golf cart can cost you anywhere from $1,500 on up. While I realize it is easy to say it depends when asking how much, I've always found it reassuring to know how little I might pay as well as the crazy rich price should I happen to win that ol' lottery.
I would suggest not buying used golf carts for under $2,000 where the risk of buying a lemon is too great when reliability is your goal. If you are into rebuilding and refurbishing golf carts, the under $2000 range would be perfect and leaves cash for the rebuild and customization.
I also wouldn't go for a high-priced brand new elite model golf cart because you are probably the only person that would know how much you spent for it.