Everett and Clinton Cushman and several members of their large family of farmers and machinists moved from Wisconsin to Lincoln, Nebraska in the late 1890s.  Clinton attended the University of Nebraska, graduating with an Engineering Degree. His sister Lucy also was a student at the university. Their brother Leslie was an engineer at B&M Pump House. Everett didn't stay in school very long and was working as a machinist for Claiborne L Shader Bicycle in 1901.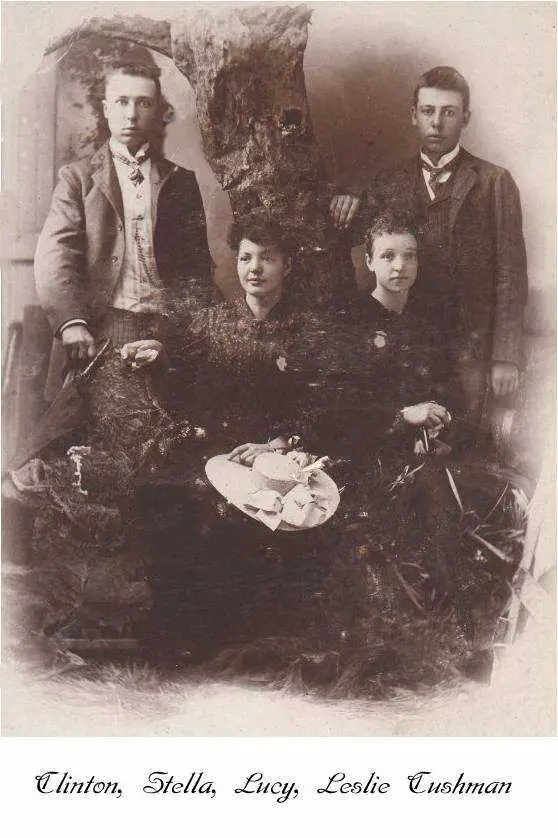 Cushman Motor Works Founded
On Oct 25, 1901, Everett and Leslie filed for a patent that was for a 2-cycle stationary engine compression seal. The patent was approved in 1902 and Clinton graduated with a degree in electrical engineering that same year.
The Cushman Motor Works founding was filed on September 18, 1902, by the Cushman Family and H. W. Davis. Davis was the loan agent and put up the capital to get the company going. The two 2nd cousins, Everett Bruce, age 24, and Clinton Cushman, age 32, are credited with founding the company, but the October 15, 1902 edition of "The Horseless Age" entered the following under "Legislative and Legal":
The Cushman motor company has been organized at Lincoln, Neb., with $50,000 capital by H.W. Davis and L.S. and E.E. Cushman.
(E.E was probably a mistake and was supposed to be E.B. for Everett Bruce, L.S. was Leslie Silas)
The Cushman boys had been building farm machinery and putting motors in pumps, lawnmowers, and boats, attempting to make a living and build a major name for themselves. Since they were interested in boating, they developed a single-cylinder 2hp outboard engine.

They won a competition with their outboard engine and had a glowing write-up in the news, but demand was light and didn't help the struggling company much. The financial troubles continued for some years and Clinton left the company in 1908 to work in Los Angeles, California. His brother Leslie followed him In 1909. That same year, the family brought in E.B. Sawyer as General Operations Manager. Sawyer was a salesman with a background in engineering and saw a huge potential in responding to the farm community's desire to mechanize agricultural production.
Cushman Motor Company developed a water-cooled, 4 cycle engine that developed a reputation for durability and speed. In 1910, their reputation throughout the midwest grew and they actually made a profit.
The Foundry
The new foundry/factory began construction on 21st St. and X in 1913. This building was to be the Cushman Icon in Lincoln for 90 years. The factory building had 250,000 square feet of floor space and covered 15 acres.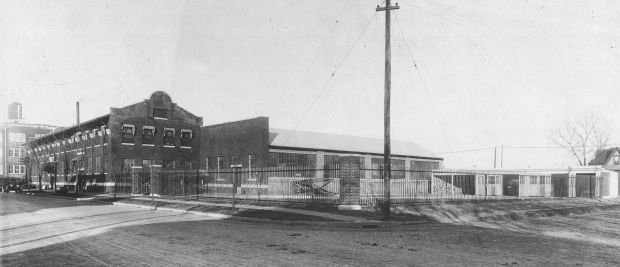 World War I
World War I brought lucrative contracts from the military and foreign markets and Cushman began to build electric light plants small enough to be used by farmers and electric companies. They expanded to a Canadian branch in 1918 and were supplying engines for domestic appliances and farm equipment.
The end of the war also brought about the end of military contracts and the farm depression ended the boom in agricultural sales. The company started to slide into debt quickly. Everett eventually left the company in 1919 and moved to Topeka, Kansas to work as a mechanical engineer.
In 1921 the Cushman "Cub" was introduced to the market. It was a 2hp "hit and miss" air-cooled engine and was the forerunner of the "Husky". Cushman began production of their four-stroke Husky engine in 1922.
Sawyer continued to run CMW for several more years, but the Cushman family had all moved on. He was unable to bring sales back up again and in 1927, a board of creditors forced him out of his position as president and a management firm took over. Cushman Motor Works essentially began to dissolve somewhere around 1933.
The Depression
The Easy Manufacturing Company, producers of the Easy windmill were located at a plant at 1405 North 12th Street building, just across the street from Cushman. They manufactured open-back geared pumping windmills and had contracted with Cushman Motor Works to make castings for the gearboxes.
John F. Ammon, the owner of Easy, developed an interest in the Cushman company and began acquiring stock, and by 1934 had gained a controlling interest. John merged the two companies under the well-known Cushman name and installed his son, Charles as the CEO. Charles later placed his sons, Robert and William, as president and vice president, respectively.
Ammon continued to produce the Easy windmills but put most of his efforts into the development of the Cushman engines.
In 1936, a kid looking for parts rode into the plant on a bike that he had adapted to be powered by a Cushman washing machine motor. Charles took the idea and had his sons Robert and William design the "Auto-Glide" scooter to boost the sales of the Husky engine. The first run produced 16 scooters that were priced at around $150. The scooter was widely acclaimed as an alternative to the automobile and was, during the War's gas rationing, a bit of a luxury.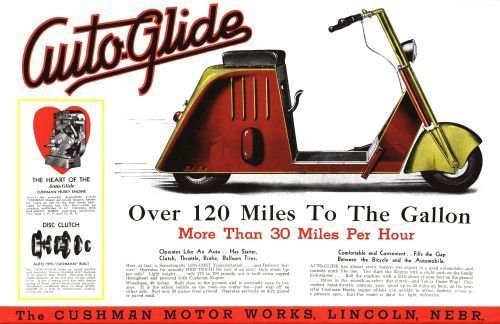 World War II
In 1940, the city of Lincoln was campaigning to bring in military contracts, and was, for a short time, considered for the Martin bomber facilities. Since Martin's policy was to hire no more than 3% of the city population, Lincoln ended up being too small for consideration and the contract went to Omaha instead. Ultimately, Cushman attracted the government's eye with its successful scooter Autoglide production.
During World War II, the Cushman scooters were chosen by the United States Armed Forces as a military vehicle because they were quiet and easily maneuverable. The Model 53 was designed to be parachuted from military aircraft and was dubbed the Cushman "Airborne" or "Parascooter". The model 53 was a single-cylinder 4.6-horse-powered gasoline motor with a two-speed gearbox and could travel up to 100 miles on a single one-gallon tank.
Other model scooters were chosen to provide utility and message-running services. Cushman also produced bomb casings, bomb fuses, aircraft propeller weights, and nose fuses for the war effort.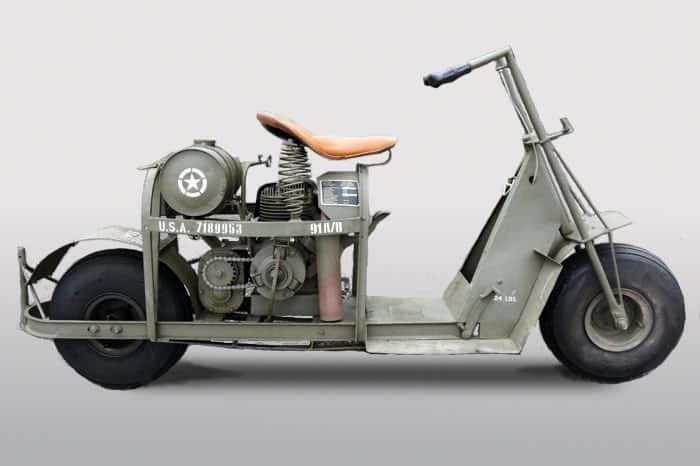 Since many of the men were serving in the armed forces, women were working production jobs for $0.43 an hour.
American consumers were enthusiastic over the design of the military version of the scooter and the company wasted no time at all before capitalizing on the trend and producing the Civilian Airborne.
Cushman Acquired by Outboard Marine Corporation
Charles Ammon passed away in 1950, and the Ammon brothers continued running the company until 1957 when Cushman Motor Works was sold to Outboard Marine Corporation (OMC). Cushman was operated as a subsidiary until 1961 when it became a division of OMC.
The Cushman "Eagle" model was the longest production run, lasting from 1950 until 1966 starting with the barrel spring model 765. The single-speed model 762 was introduced in 1952 at a list price of $285.
Cushman advertised their scooters as operating for a "penny per mile", due largely to the average 75 miles per gallon fuel efficiency.
The 1950s models were designated Road King, Pacemaker, and Highlander. Sears sold its own version of these models branded as Allstate. The Allstate Jetsweep began in 1957 and ended in 1960.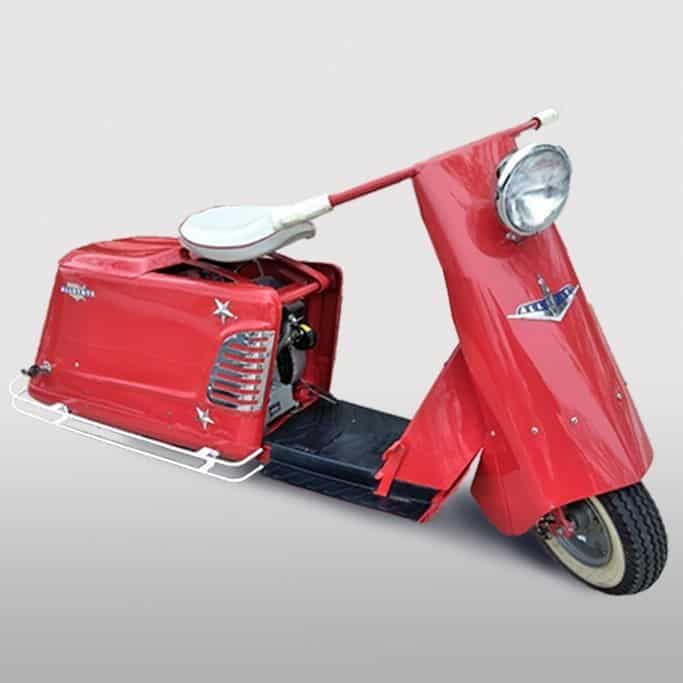 An interesting design feature of the throttle is that it operates in the opposite direction…the throttle twists forward to accelerate instead of backward like other scooters and motorcycles.
By 1966 all scooter production had been discontinued, and the last of the models off the line were marketed as 1966 Silver Eagle models. OMC changed the focus of the Cushman division from 2 wheels to three and four-wheel vehicles, namely golf carts, and utility vehicles.
Trucksters and Other Utility Vehicles
Cushman Trucksters were produced from 1952 (Model designations began in 1953 with models 782 and 731) until 2002. The Truckster was used as a mail carrier, mall security vehicles, Meter Maid duties for the NYPD, and ice cream vendor trucks. Cushman also manufactured the Trackster, which ran on tracks instead of wheels, and had a low center of gravity and an excellent balance for climbing the steepest grades.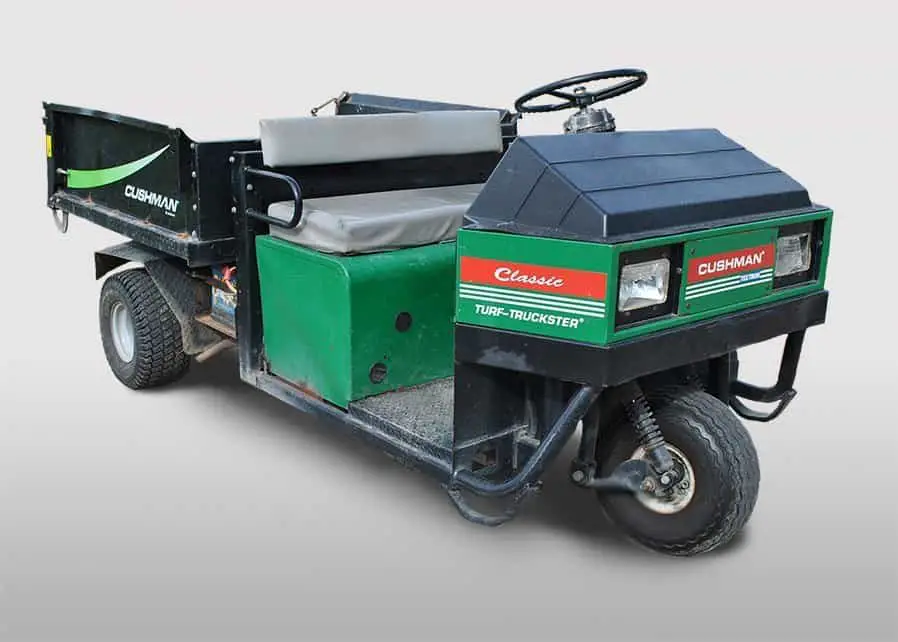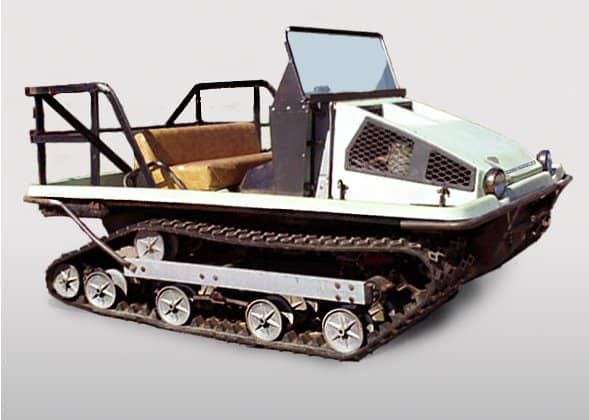 Golf Carts
The Cushman Golf Buggy began in 1949 and was followed by the Golfster in 1954. The golf cart models and years produced are documented on this page. The Cushman golf cart was extremely popular for years, but sales declined after Harley Davidson entered the scene with their gasoline-powered carts. Melex also started shipping their E-Z-Go knockoffs to the U.S. and was instrumental in driving the golf cart sales down. All golf cart production ended in June of 1975.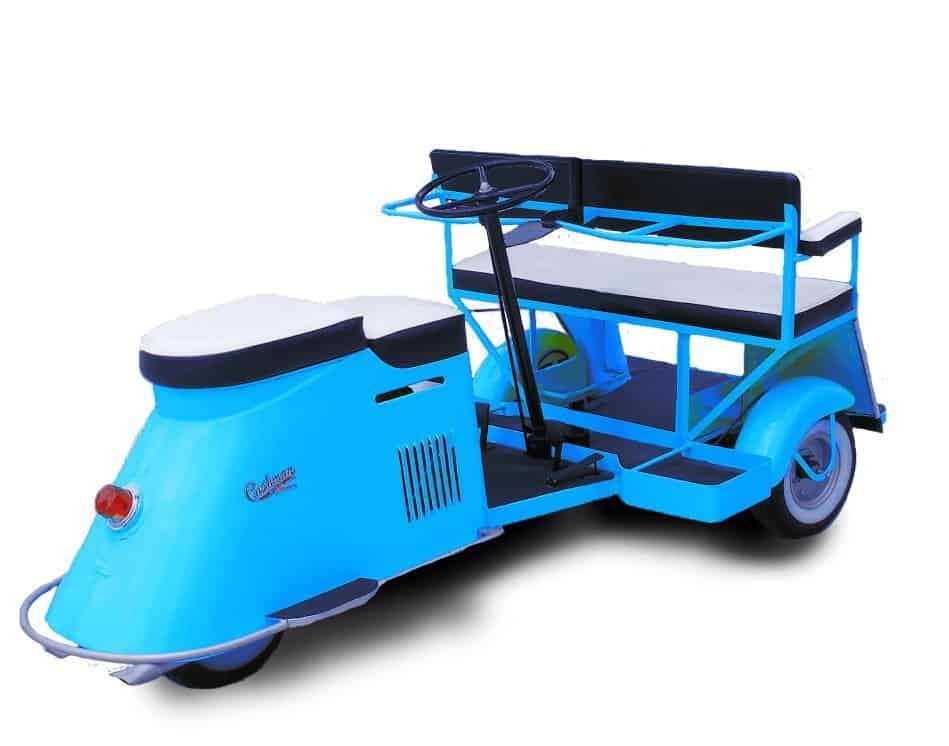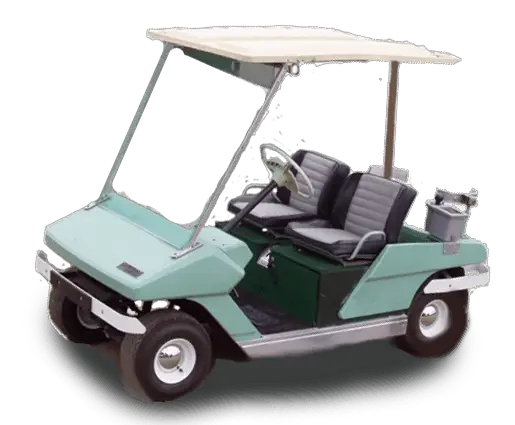 OMC Sells Cushman to Ransomes
OMC announced in July 1989 that they were seeking bidders for the Cushman business and in August, Ransomes America Corporation purchased Cushman for $150 million cash. OMC decided to sell the Cushman and Lawn Boy units to finance ramping up the marine products division. Cushman at that time had a book value of about $70 Million and annual sales of over $90 million.
Textron Acquires Ransomes
In 1998, Textron purchased Ransomes PLC for $231 Million to expand their own lawn care and golf business. Despite earlier plans to keep Cushman in Antelope Valley, Textron moved the operation to Augusta, Ga.
Textron sold 17.8 acres of the Cushman property to the University of Nebraska-Lincoln for $4.9 million in 2003.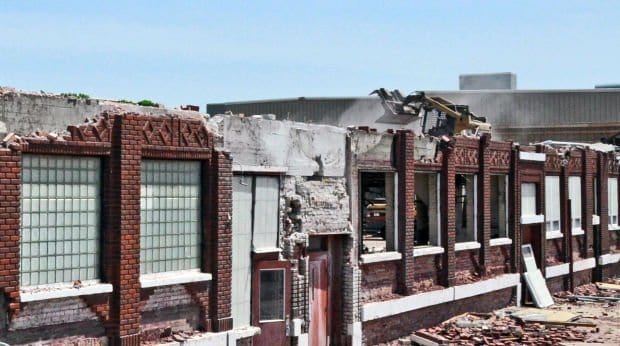 Despite its significance to Lincoln's history for more than 90 years the Cushman Motorworks building was never designated as a historical landmark, so UNL demolished the building in 2014 to build a parking lot.
Conclusion
Avid collectors still acquire the classic Cushman vehicles to restore and display at vintage vehicle shows. Restored scooters that originally sold for $150 to $250 can bring $6000 to $8000 now.
Textron continues to market Cushman Inc. branded utility and lawn maintenance vehicles as well as the E-Z-Go and Jacobsen product lines.