Last Updated on November 17, 2023 by Chuck Wilson
Right after my used Club Car golf cart was purchased and in the garage, I set about looking for accessories and tune-up kits for it. First, I had to figure out what the model and year of my golf cart was by reading the serial number.
The year of a Club Car Golf Cart is the first two numbers following the model letters on the serial tag. Since 1981 this tag is located just below the glove box on the passengers side of the vehicle.
It turns out that Club Car was pretty consistent with their serial numbers over the years and if you can read the first six digit on the serial plate, you can find the year and model of your cart.
Club Car Golf Cart Serial Number Location
The serial number is located in one of two locations:
Inside or under the passenger side glove box – Club Car 2004-present Precedent models
Under the passenger side glove box – Club Car DS 1982-present ds models
Under the driver's side seat on the frame – Club Car Pre-DS (1975-1980) Note: The1975-1980 model has two brake pedals and one accelerator pedal.
Compare The First 1 or 2 Letters To The Golf Cart Model Chart
For a list of all models including the remanufactured ones please visit the Complete Club Car Model Prefix Chart.
The first letter and second letter at the beginning of the serial number indicate the vehicle model. The following four digits are the digits of the year of manufacture and production week during which the vehicle was built. The last six digits after the hyphen ion the serial number plate will be the unique sequential number assigned to each vehicle built within a given model year.


Using the chart below, the first 2 letters (AG) of the serial number tell me this is a Club Car DS Model Gas Golf cart (an A by itself would be a DS electric), and the next two digits tell me it was built in 1996. The 5th and 6th digits tell me it was the 25th week of production and the trailing numbers are the serial…or 503,802th produced.
Abbreviated Club Car Model Chart
Common Current Club Car golf carts Models
A=DS Electric cart
AA=DS Electric (48-volt)
AB=DS Models Electric (36-volt)
AC=DS Models Electric (48-volt) Regen
AG=DS Golf Gas
AQ=48-Volt DS Golf Electric (Curtis IQ)
CE=Champion – Electric
CF=Champion – Gas
CP=CHASSIS, DS, IQ, CUSTOM CAR
CQ=CHASSIS, INDIO 48-Volt IQ
CR=CASE IH SCOUT, 4X2, GAS
D=Four Passenger Electric (Fairway Villager) (Electronic Controller)
DD=DS ELECTRIC, IQ SYSTEM, CHN
DE=VILLAGER 4 48-Volt IQ, CHN
DG=Four Passenger Gas (also known as Fairway Villager) #1013081 IPL
DS=102474001 – 48-Volt DS POWER DRIVE SERIES LC
E=Carryall 2 Electric (Electronic Controller)
EA=Carryall 2 Electric Industrial Truck (CE)
EB=CARRYALL 2, ELEC, AC LSV
EC=CARRYALL 2, ELE, AC LSV, HOMOL
ED=CARRYALL 6, ELE, AC LSV, HOMOL
EG=Carryall 2 Gas
F=Carryall 1 Electric
FA=Carryall 1 Electric Industrial Truck (CE)
HA=DS Electric 36V Solid State (1994)
JE=PH PRECEDENT i2 HF CHG
JF=PH PRECEDENT i2L HF CHG
JH=PRECEDENT I2L 4 PASS HF CHG
JJ=PRECEDENT I2 L2 HF CHG
JN=PRECEDENT I2 SIGNATURE HF CHG
JW=PRECEDENT I2 SIGNATURE 4 PASS HF CHG
JX=PRECEDENT I2 STRETCH HF CHG
M=Villager 8 Electric (Electronic Controller)
PD=Precedent I2L Excel
PE=Precedent Electric – 4Pass
PF=Precedent Gas – 4 Pass
PH=Precedent I2 Excel
Note: The Precedent has 2 models – the "Champion" and "Professional" models. If the steering wheel has a square center it is the Professional. If it has a round center, it is a Champion model.
1981-2000.5 and 2000.5-Present Models DS Differences
Club Car DS Golf Carts Made In The Year 2000.5 and up will have: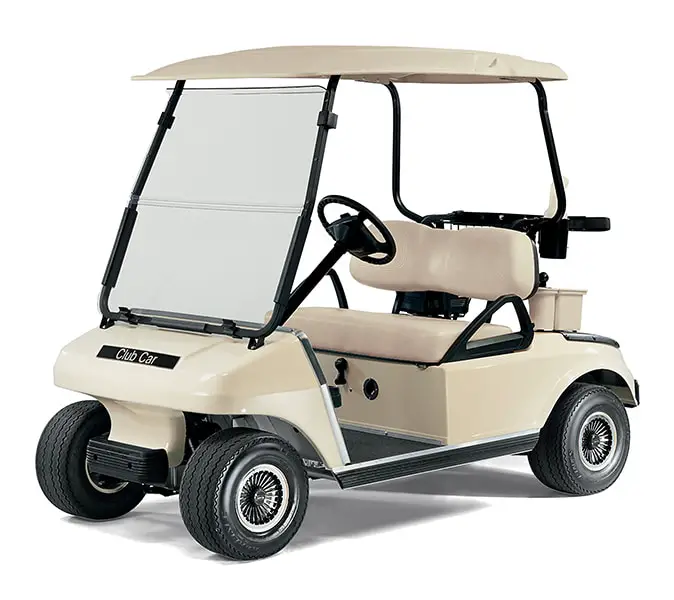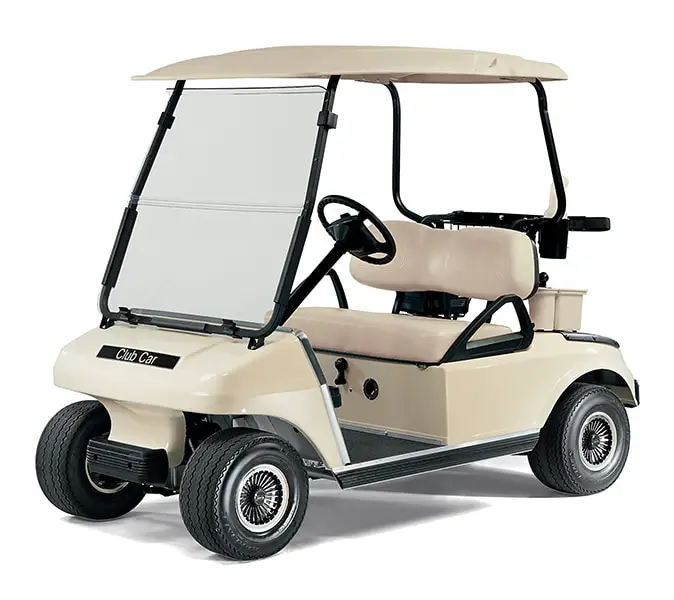 Two separate seat backs
Rubber-coated pipe serving as seat armrests
Silver aluminum roof supports
Thin top plastic roof with no handles
The serial number can be found under the passenger-side glove box
Connected seat back
Molded plastic triangular-shaped armrests
Black top supports
Molded plastic thicker top roof with handles
The serial number is located on a sticker behind the accelerator pedal mounted to the beam frame section.
Differences in the Club Car DS and The Club Car Precedent
1982-Present DS Models have a square front nose with a small black plastic bumper on the lower part of the front end.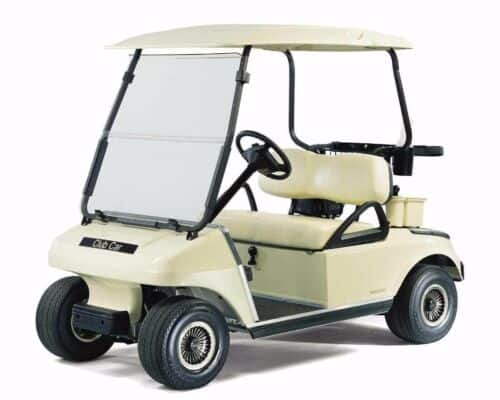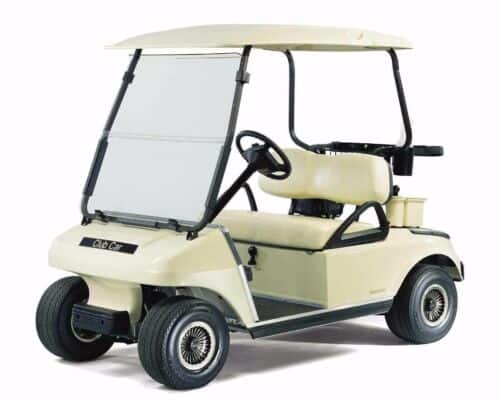 2004-Present Precedent Models have a rounded front nose with a wide black plastic bumper that wraps around the cart.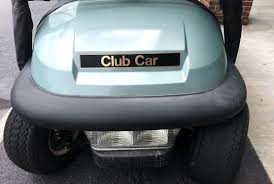 Materials In Construction
In 1993, Club Car replaced the plastic and fiberglass bodies with Armorflex which was a thicker and more durable material. It was less likely to bend and could break in a collision, but it would take a good deal more force to cause harm to it. In 2003 the material Surlyn by DuPont was introduced in the Club Car Precedent Golf Cart. The Precedent's color is molded into the product thus eliminating painting and clearcoat.
Conclusion
We hope we have helped you find out "What Year Is My Club Car" with this handy reference guide.
Note: The Club Car Golf Cart was brought to prominence in the field by eight of the original executives, recently resigned from E-Z-Go. They were late entering into the gas-powered golf cart field, but in the years that followed rose to one of the top-selling carts in the field. The Club Car family is now part of Ingersoll Rand Corporation.